I'd like to introduce a new software, which is used for iPod.
iPodRobot iPod to Computer Transfer can do what iTunes can not do.
Let's go through the features of it.
* Protect your iPod against unwanted iTunes synchronizations.
It is helpful. Sometimes you don't want to do synchronize, but it start automatically.
* Easily get all the music, videos, and photos off your iPod and transfer them to your computer folder or iTunes.
I treat it as a kind of backup. Good for recovery from disaster.
* Easily transfer your playlist with its folder structure back to iTunes, and rebuild your iTunes library.
When reinstall the iTunes with new box, it is a handy tool.
* All song ratings, comments, play counts, the songs' order, and even volume adjustments will be preserved.
Look, I call it backup or snapshot for your iTune.
* Keep your output folder organized.
Good to hear that.
* Auto-reject duplicate files when importing music into your iTunes library.
It is a very important feature to save time and disk space.
* Only read data from your iPod. It's totally safe, and risk-free to try.
* Extremely easy to use, skinable user interface.
* Supports all iPod models, even the newest iPod Touch and the iPhone.
* Lifetime upgrades are free.
Lifetime, how long about the life? It must be longer than your iPod. 🙂
* No Adware/Spyware/Virus, guaranteed.

You spend $19.95 to have this handy tool. It may save you a lot of hours to rebuild your playlist or organize your music files.
Before buy iPod to Computer Transfer, you can download it for a trial.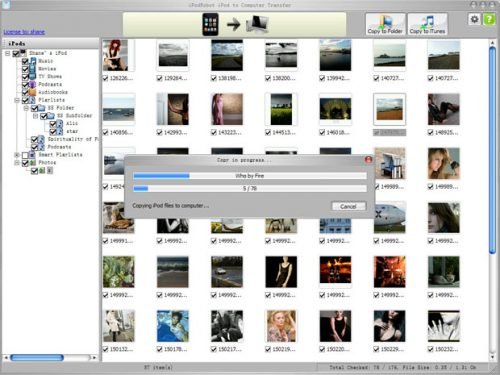 You can also download the its Free iPod Video Converter for free. It help you to convert all popular video formats to iPod compatible MP4 or MP3 formats. Then you can transfer them to iPod to playback.
Updated: 2013.08.29. Now it can be done through iTunes