You will see the warning of Google's SSL server certificate is expired when you login you Google AdWords account this morning.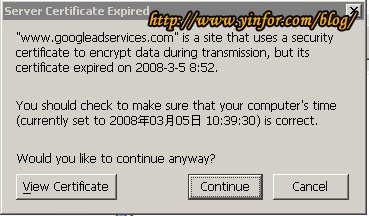 The certificate is issued to www.googleadservices.com.
When login Google AdWords, it will check your google account through Google Ad Services site.
From the screen shot above, we can tell the details about this certificate.
Issued to Google Inc.
Issued by Thawte SGC CA
Expired on 2008-03-05
Anyway, this problem of certificate expired warning is gone.