D-Link 1402s is not a router only. It is a four ports router and 2 ports VOIP adapter.
The price is dropped down from about $90 to $59.95 on sipphone. Some sites still tag it at $88.95.
Please be noted the D-Link 1402s is not a locked equipment. It is open. You can use it on any VOIP service.
There are some D-Link 1402s/L, locked one. Only works on Lingo Voice Service. Donot buy this one.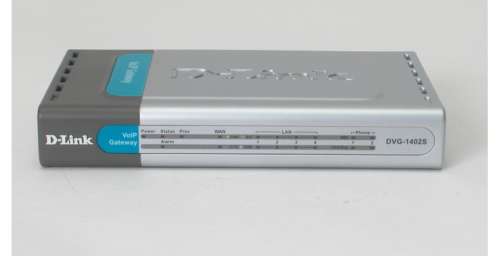 Using your existing broadband connection, the DVG-1402S connects to your cable or DSL modem. Connect up to two regular phones to the DVG-1402S, and with an appropriate Internet phone service plan, you are ready to make VoIP calls. With the DVG-1402S, calling over the Internet is simple and works just like a regular telephone. The DVG-1402S is compatible with several convenient call features such as caller ID, voicemail, call waiting, and three way calling.
The DVG-1402S Broadband Phone Service VoIP Router also acts like a router for your network, providing room to connect up to 4 computers to share a Broadband Internet connection. With all the essential features in a router and featuring PPPoE support for DSL accounts, router functionality for access to the Internet, and firewall features to keep unwanted intruders out of the network, the DVG-1402S is a great all-around solution for the home, office, or your small business.