I got a set of TP-Link Mesh Wi-Fi systems. TP-Link Deco X90, AX 6600 Tri-Band Mesh Wi-Fi 6 System.
Here I would like to show some basic information about it.
The box is big and heavy. Two nodes can cover 6000 sq. ft. or  557 square meters.
Some Features:
[icon name="wifi" prefix="fas"] AX6600 Tri-Band WiFi: Boosts overall speeds up to an incredible 6600 Mbps
[icon name="brain" prefix="fas"] AI-Driven Mesh: Intelligently learns the network environment to provide ideal Wi-Fi unique to your home
[icon name="broadcast-tower" prefix="fas"] Smart Antennas: Establish a stronger backhaul to boost coverage and improve wireless connections
[icon name="laptop-house" prefix="fas"] Connect More Devices: Connect up to 200 devices without dragging down performance
[icon name="shield-virus" prefix="fas"] TP-Link HomeShield: Keeps your home network safe with cutting-edge features for network and IoT protection

Deco X90 Hardware and specs:
CPU: Broadcom BCM6755 1.5Ghz Quad-Core CPU
RAM: 512MB
Ports: 1×2.5G WAN/LAN + 1X Gigabit WAN/LAN
Wi-Fi Bands: 4804Mbps on 5GHz + 1201 Mbps on 5GHz + 574 Mbps on 2.4GHz (Two 5GHz and one 2.4GHz bands)
Antennas: 4 High-Gain Antennas + 2 Smart Antennas
Mesh Protocol: 802.11 k/v/r ( It is most important specs for Mesh network)
The CPU is a fast one. It is the fastest one in all my routers.
Deco X90 Pictures: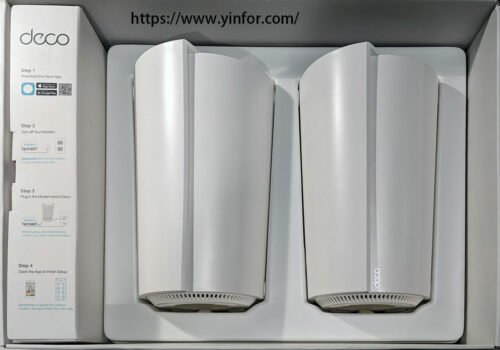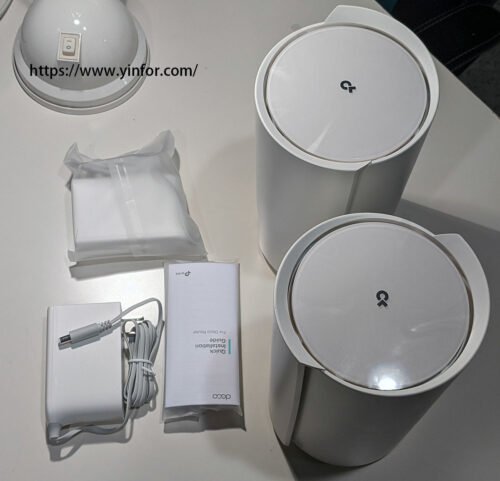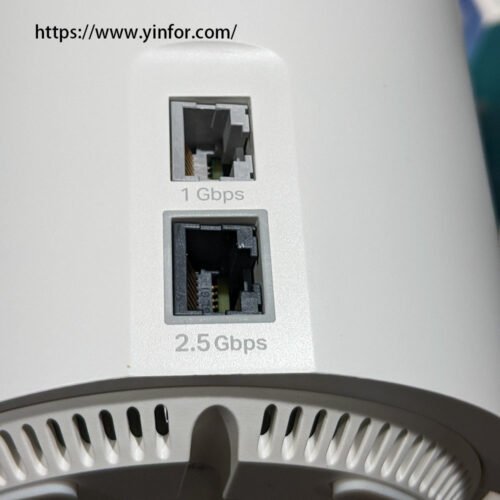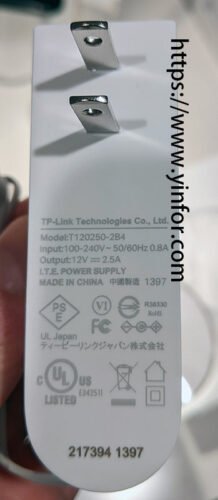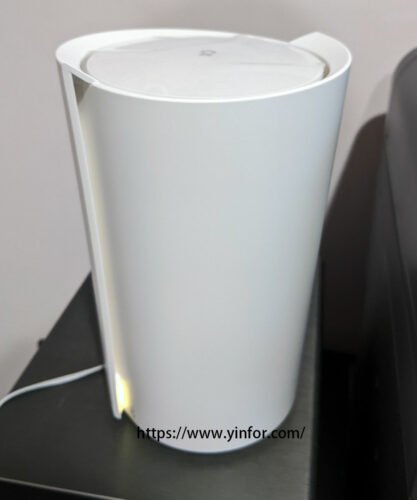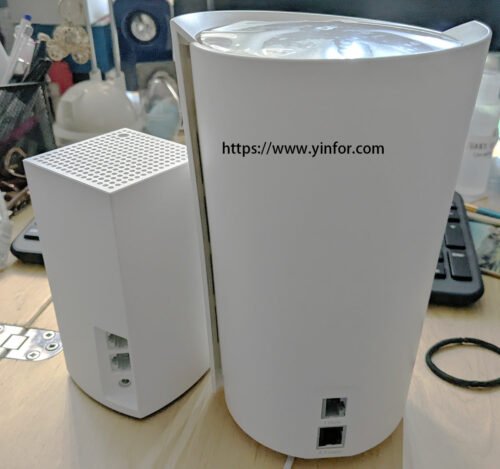 Installation of the Deco X90
The very first step is to install the app from Google Play or AppStore.
Then, follow the on-screen directions. Step by Step to complete the first X90 device and later add the second one.
The default is to use Wi-Fi to connect the second X90 to the primary (the first) X90. I prefer to use ethernet to connect them.
I live in a three stories townhouse. I put the primary Deco X90 in my office, which is in the south of the building. The second X90 is in my daughter's room, in the north of the building.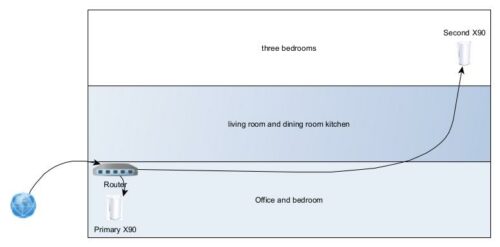 I have my own router, which is a soft router. I did not plan to replace it. So I use these two X90 as an Access Point.
Tp-link  Deco App and Features: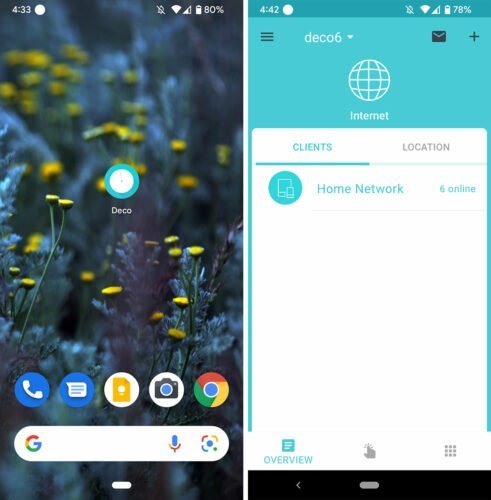 I named my network "deco6", kind of boring.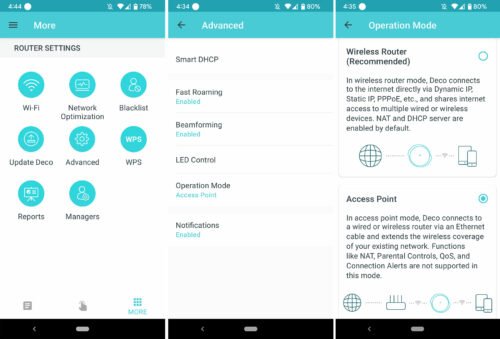 Touch the nine-dots icon, more settings, touch the Advanced, Operation Mode, then choose Access Point.  Because I connect the primary Deco X90 after my router.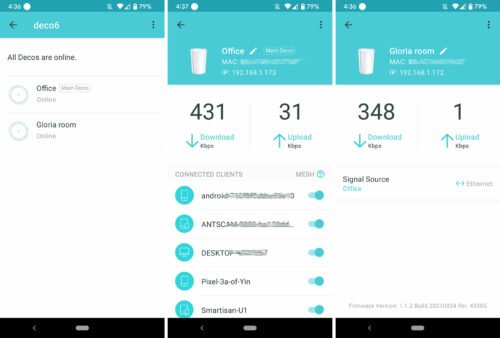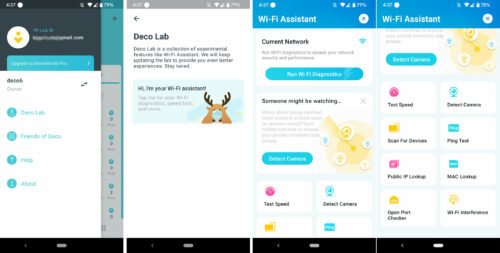 I like this one. The Deco Lab, Wi-Fi assistant. Test speed, port checker, etc.  A lot of fun features in this Deco Lab.
Web Interface
There is also a web interface for X90. I know their IP address of them from the Deco App. 192.168.1.172 and 173.
192.168.1.173 is the main Deco or Primary X90.
From my desktop, I enter the IP address into Google Chrome.  By entering the password of the TP-link ID, I can access it.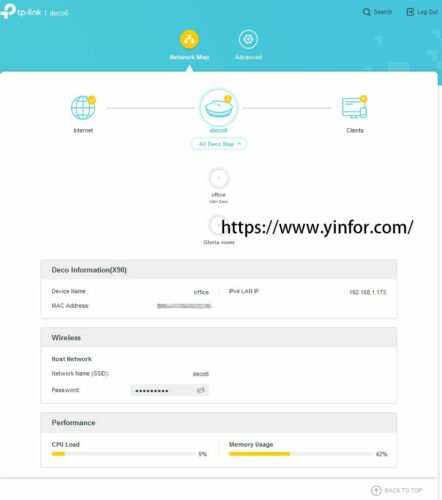 I can see the device CPU load, memory usage, and the clients who connect to my network.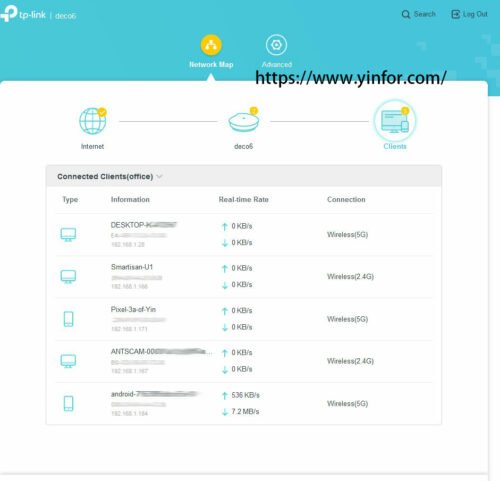 At the Advanced panel, it shows the status and a lot of System-level functions, including firmware upgrade, system log, time settings, reboot, and system parameters. These are for all devices of this network.
When I enter 192.168.1.172 into Google Chrome, the second Deco web interface. It is only shown me the System log, Firmware upgrade, and reboot. it is for this device only.
I am not using functions like NAT, Parental Controls, QoS, Connection Alerts, etc.
Issue
There is a small issue with the system. I am using AP mode, my mobile device can not get the IPv6 IP address through Deco X90 from the Router. Maybe the next firmware can solve it.
My Conclusion
The Tp-link Deco X90 provides great features and fast Wifi speed. I would like to recommend it to someone like me having a problem using one Wi-Fi Access Point in a townhouse or even a big house. Because It is very hard to place one single AP at the center of the house. Two X90 make a mesh network. It is easy to make it cover the whole home, from the basement to the third story.
I am going to make a wireless speed test later.