My computer I am using now has A55M-P33 motherboard. It uses AMD A55 chipset. I have ordered a new motherboard for my next PC upgrade.
recommended motherboard under 100
Gigabyte B450M DS3H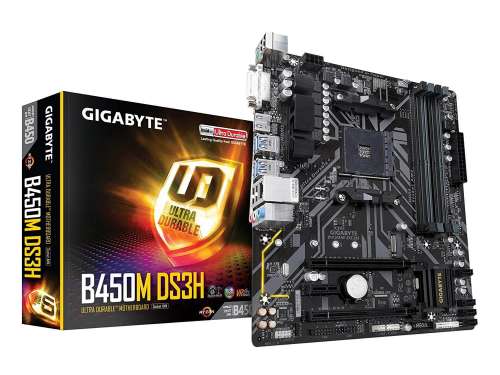 Some pictures of it.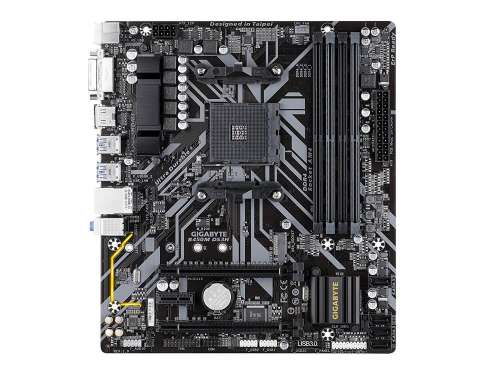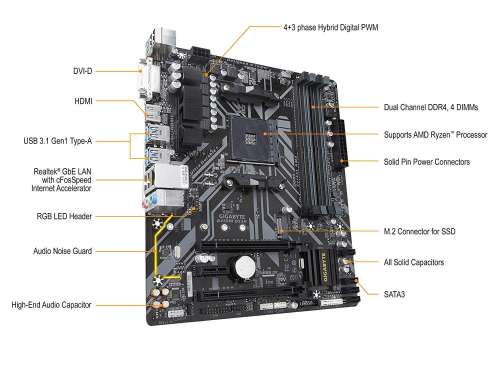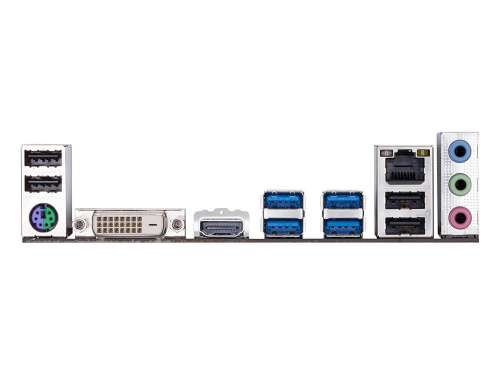 When I upgrade my desktop with this new motherboard, there are some upgrade for whole system.
Let me list these news below:
DDR3 to DDR4
SATA II to SATA III
USB 2.0 to USB 3.1
PCIE Gen.2 to PCIE 3.0
The new technoligy brings more features.
DDR3 vs DDR4
DDR4  operates at a lower voltage than DDR3. DDR4 runs at 1.2 volts, down from 1.5 volts. It means to reduce your bill.
DDR3  specifications started at 800 MT/s (or Millions fo transfers per second) and some went as high as 2133. DDR4, meanwhile, starts at 2133 MHz. The increased speed means an overall increase in bandwidth.
DDR3 is 240 pins. DDR4 is 288 pins.
SATA II vs SATA III
SATA II known as SATA 3Gb/s, is a second generation SATA interface running at 3.0 Gb/s. The bandwidth throughput , which is supported by the interface, is up to 300MB/s.
SATA III known as SATA 6Gb/s, is a third generation SATA interface running at 6.0 Gb/s. The bandwidth thoroughput, which is supported by the interface, is up to 600MB/s.
For me, it will let my SSD reach more higher write / read speed rates.
USB 2.0 VS USB 3.0
The SATA II and SATA III cable and connectors are same.
USB 2.0 vs USB 3.1
USB 3.0 is 10 times faster than USB 2.0, about 4.8Gbps. USB 3.1 gen.2 provides higher data transfer speeds of up to 10Gbps. USB 3.1 offers an "always right" type-C connector, and the capacity to power any type of device.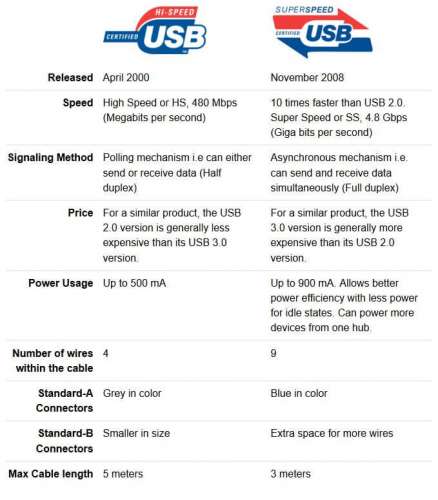 PCIE Gen.2 vs PCIE Gen.3
In short, PCIE Gen.3 is almost double the speed of PCIE 2.

Back to my new motherboard. Gigabyte B450 DS3H.
Here are the features listed ont he Gigabyte website.
Supports AMD Ryzen™ 2nd Generation/ Ryzen™ with Radeon™ Vega Graphics/ Athlon™ with Radeon™ Vega Graphics/ Ryzen™ 1st Generation Processors
Dual Channel Non-ECC Unbuffered DDR4, 4 DIMMs
HDMI, DVI-D Ports for Multiple Display
Ultra-Fast PCIe Gen3 x4 M.2 with PCIe NVMe & SATA mode support
High Quality Audio Capacitors and Audio Noise Guard with LED Trace Path Lighting
RGB Fusion supports RGB LED Strips in 7-Colors
Realtek® Gigabit LAN with cFosSpeed Internet Accelerator Software
Smart Fan 5 Features 5 Temperature Sensors and 2 Hybrid Fan Headers with FAN STOP
APP Center Including EasyTune™ and Cloud Station™ Utilities
CEC 2019 Ready, Save Power with a Simple Click