I received a letter from KFI, Kataria Foods International.
Costco Wholesale records indicate you may have purchased KFI Butter Chicken Sauce produced by Kataria Foods Inc., between January 2 and June 11, 2015.

It recently came to our attention that the net volume of the product as shown on the label does not accurately reflect the declared volume of product in the jar. The over-declared volume amounted to an overcharge of $0.68 on this product. We are very sorry for this error.

We have taken this issue very seriously and have worked with Costco to correct the problem.

We have also taken measures to ensure future compliance on declared volumens.

Again, we apologize for this error and, as a gesture of our appreciation, we have included a voucher for a free hot dog and soda pop (value of $1.50), which can be redeemed at the food court at your local Costco warehouse. If you prefer, you may return the product to a Costco warehouse for a full refund.
This is the letter form KFI.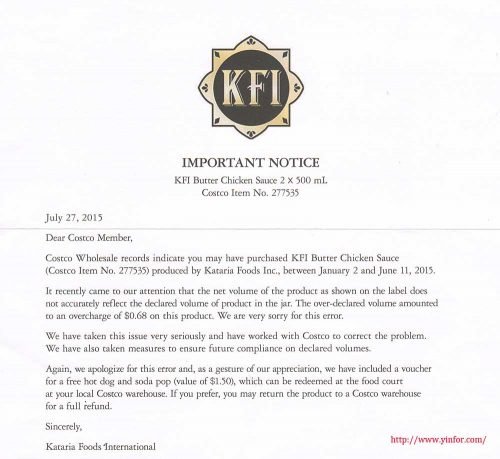 I am noticed that the overcharge is only $0.68. But, KFI send the letter by mail, cost it at least $0.77, plus the voucher $1.50. And also I can return the products with full refund. Even not count the letter itself.
KFI's product, Butter Chicken Sauce, has no problem of quality, but only a little bit problem of quantity.
I have to say, KFI is a good company. I will continue buying its products in Costco.