First of all, the passport remains the exclusive property of the Government of Canada and the person is allowed to use it.
Safekeeping
As the custodian of this passport, it is your responsibility to keep it in a safe place at all times. If issued to a child, it is the parent or legal guardian's responsibility to safeguard the passport on the child's behalf.
When travelling: Do not leave a passport unattended in your luggage, vehicle, hotel room or esewhere. Lock it in a hotel safe or carry it securely in a moneybelt, purse or inside coat pocket.
At home: when no travelling, it is recommended that your passport be stored in a secure location in your home not easily accessibile to others.
Before you travel
Check the Government of Canada's official Travel Advice and Advisories or each destination country at http://travel.gc.ca/travelling/advisories. You will find up-to-date, country-specific advice on safety and security, entry and exit requirements, health concers, local laws and culture, and natural disasters and climate for more than 220 destinations worldwide.
Order or download a copy of Essential Information for Canadian Travellers and other publications for advice on safe and responsible travel at travel.gc.ca/publication.
Passport validity/expiry date: Check the expiry date of your passport before planning a trip. Many countries require that your passport be valid for several months after the date you plan to leave. Each country sets its own rules. so you should consult the Travel Advice and Advisories at travel.gc.ca/advice to confirm the requirements of each of your destination countries.
Visas
It  is your responsibility to contact the embassy or consulate of each destination country well before you plan to leave on your trip to find out if you need a visa to enter the country or to stay for a longer period of time. If so, you must apply for the visa right away. For more infomation, go to travel.gc.ca/travelling/documents/visas
If you have to send your passport to  a foreign govermnent office in Canada to obtain a visa, use a secure mail service and provide a stamped, self-addressed envelope for the return of the passport booklet.
During your Trip
Always keep your passport safe and never divulge your travel document information. Do not leave it unattended in your luggage, vehicle, hotel room or elsewhere. Lock in in your hotel safe or carry it securely in your moneybelt, purse or inside coat pocket.
Before you leave, scan or photocopy the information on page 2 of your passport and email it to yourself or carry the copy with you ina different location in case anything happens to your passport.
If your passport is lost or stolen, report the loss or theft immediately to Passport Canada (in Canada) or the nearest Government of Canada office (outside Canada).
Important: If you find the passport that you had already reported lost or stolen, do not use it. It will no longer be valid for travel and you may have problems at the border. Return it immediately to Passport Canada or, if you are outside Canada, to the nearest Government of Canada office.
If your passport is damaged, you could face significant delays, be denied entry at border crosssings, or be denied boarding on flights. Submit a  new general passport applicaiton along with tthe damaged passport to obtain a replacemnt.
Stay connected
Sign up for the Registration of Canadians Abroad service at http://travel.gc.ca/travelling/registration so that Foreign Affairs, Trad and Development Canada can contact you and assist you in case of an emergency at hone or abroad.
Contact :
Toll-free number (Canada and the United States):
1-800-567-6868
From outside Canada and the United States
819-997-8338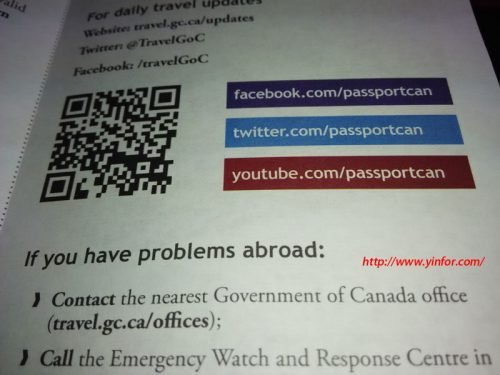 The above are from the brochure with my new 10 years passport.