Calibre 64bit has new 1.37 release.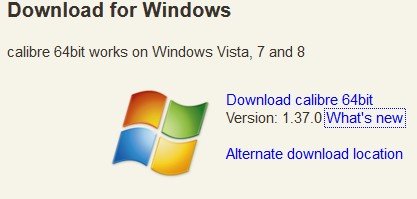 New Features of 1.37
Edit Book: Live spell checking in the code view. Now spelling errors are highlighted in the code view for convenient correction as you type. This can be turned off via Preferences->Editor.

E-book viewer: When using the tap and hold gesture on a touchscreen, allow lookup of the word currently under the finger in the dictionary or online.

Edit Book: Allow putting the editor into replace mode by pressing the Insert key

Content server: Add more descriptive titles to the OPDS feeds, where possible.

Edit Book: Update the Table of Contents view automatically when the ncx file is edited.

Edit book: Insert tag button: Allow entering attributes along with the tag name to make it easy to repeatedly insert, for example, <span class='special'></span>.

Windows driver for Woxter Scriba 190.

Edit Book: Add an entry to the context menu of the preview panel to open external URLs when a link is right clicked on
New Features of 1.36
Edit Book: A new tool to filter style information (Tools->Filter style information). Useful to easily remove some CSS properties from the entire book.

DOCX Input: Add support for cross references. Cross references that are used to insert hyperlinks are now converted into hyperlinks in the output document. Features to insert paragraph/page numbers are not supported.

Add support for viewing kepub files in the calibre viewer, by treating them as plain epub files

Edit book: In the Insert Link tool show a few words of text alongside the location anchor name, to make it easier to know what a location is

Manage user dictionaries: Allow copying all selected words by right clicking them and choosing 'Copy to clipboard'.

Content server: Make .ibook format files available in OPDS feeds

Edit book: Allow copying the list of errors from the Check Book tool to the clipboard by right clicking on the list of errors

Book polishing: If the books being polished have an ORIGINAL_EPUB/AZW3 format, warn the user that polishing will use it as the source and ask for confirmation.
New Features of 1.35
Edit Book: Redesign the syntax highlighter to improve performance for large documents and extended editing sessions.

Edit book: Make cursor movement smooth by not highlighting matching tags while the cursor is moving. Only match highlighting tags if the cursor stays still for a time.

Spellcheck dialog: Indicate whether a word is ignored in the Misspelled column

Spellcheck dialog: Pressing Ctrl+C on the words list copies only selected words, regardless of current cell

Add a copy to clipboard action to the context menu for the spell check dialog

Edit book: Fix save button incorrectly disabled after a failed save
New Features of 1.34
E-book viewer: When in flow mode, handle swiping on the touchscreen differently. Swiping now scrolls line by line in flow mode instead of page by page. If you wish to scroll page by page in flow mode, tap instead of swiping.

Conversion: Preserve all guide entries that are of a type present in the EPUB 2.0 specification. These entries are used by newer Kindle readers to populate the Go To jump list

When adding MOBI files if the author name is in LN, FN format, auto change it to FN LN format, as the MOBI format has no author sort field. This behavior can be disabled by setting Preferences->Tweaks->Author sort name algorithm to copy.

Spellcheck: When checking French text list all words that have the same stem as a single word. So j'aime and aime are listed as a single word.

Spell check: Add a context (right click) menu that allows for quick operations on all selected words

Manage user dictionaries: Add a button to import a list of words in bulk into the user dictionary

Spell check dialog: Allow sorting words case sensitively