I us IObit Uninstaller to clean my Windows 7. There is one program I found in the list, called Slick Savings.
I have never install this program on purpose. Actually, I don't think I saw this name before.
So I check it by Google. It sounds like a bundle program came with other software.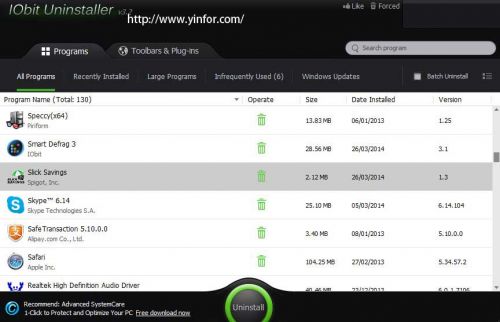 Based on the information from search results 1.
Slick Savings is an ad-supported (users may see additional banner, search, pop-up, pop-under, interstitial and in-text link advertisements) cross web browser plugin for Internet Explorer (BHO) and Firefox/Chrome (plugin) and distributed through various monetization platforms during installation. The browser extension includes various features that will modify the default or custom settings of the browser including the home page, search settings and in some cases will modify Internet Explorer's load time threshold, place a lock file within Firefox to prevent competing software from changing its settings as well as disable the browser's Content Security Policy in order to allow for cross site scripting of the plugin.
It is simply to let IObit Uninstaller to remove Slick Savings. The alternative method can be found here.