I did the AirCare vehicle inspection this Monday.  It is required by my auto-insurance renewal letter.
As we living in BC, ICBC is the only insurance company we can purchase basic auto insurance. We can buy excess third party liability or umbrella policy from other company. ICBC also issue driver license, vehicle registration, etc. It is a Crown company.
Based on the information I got, it is the last year of AirCare program.
The AirCare Program will end after December 31, 2014.
Until that  time, ALL eligible 2007-and-older modlel year vehicles will require and AirCare test prior to their 2014 re-licensing. My car is 2005 Pontiac Montana SV6. So This is the second time it took the AirCare Inspection. The first time is 2012, when it is 7 years old.
This is my AirCare report: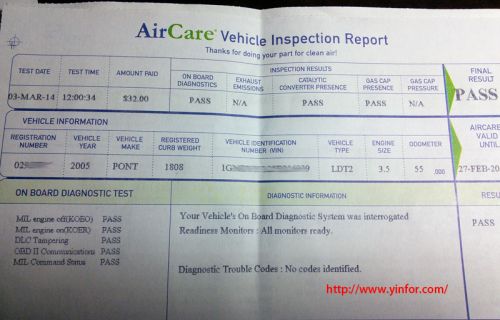 The final result is PASS. Then, I can renewal my insurance and  re-license with this report. If fail, extra cost for repairing will be needed and re-inspect the care.
The current testing contract with Envirotest Canada to provide light-duty vehicle emissions testing in this region runs until December 31, 2014. The Province has announced that light-duty vehicles will no longer require emissions testing after this date.