Yesterday, when I sign in one of my VPS webmin control panel, it displayed an upgrade button. Look at the folowwing screen shot and just click the button underneath, Upgrade Webmin Now.
It is a update with new features and bug fixes. Worth to upgrade.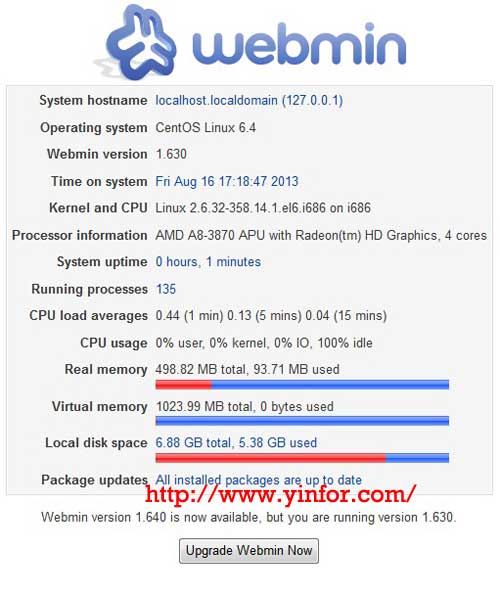 Then, I click Upgrade Webmin Now button to upgade Webmin from 1.630 to 1.640. see following release notes of this new version of Webmin.
Version 1.640 (13th August 2013)
Even more German translation updates thanks to Raymond Vetter, Norwegian updates thanks to Stein-Aksel Basma, Polish from Piotr Kozica, and Catalan from Jaume Badiella.
UI consistency improvements in the Linux Firewall and Xinetd modules.
Support for new Apache 2.4 features, such as IncludeOptional, the removal of NameVirtualHost and use of apachectl to get enabled modules.
Improved error detection and better handling of disks that don't start on cylinder 1 in the Fdisk module.
Support for growing a logical volume to the maximum size possible in the LVM module.
Fixes for total and free memory detection under OpenVZ / Virtuozzo.
Mandriva Linux improvements in the Bootup and Shutdown and other modules.
Fix for a bug that could cause /etc/webmin to be deleted following a failed upgrade on Debian.
Improved support for FreeBSD 8, bringing it into sync with FreeBSD 9.
When the upgrade process finished, it said
There are 1 updates for this new version of Webmin. Click here to automatically download and install them now.
So, click the link and Updating module apache to version 1.642.
If you are also use Webmin as control panel, go to you site and upgrade it.