RESP is Registered Education Savings Plans. It is best saving plan for your kids.
Parents buy RESP for their kids. They can put money every year until the kid is 17.
Canada government will give some grants.
Here is an example.
1) One kid born in 2011.
2) His parent opens the RESP account for him when 6 month old.
3) Deposit $2000 into this account.
4) Government will give following grants to him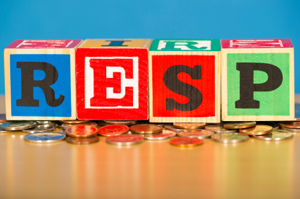 A) Canada Learning Bond (CLB) $500 first year. Than $100/year later.
B) Canada Education Savings Grant (CESG) 20% of parents contribution, = $400
C) Additional CESG ( some condition applied) 20% of first $500 = $100
So, total is $2000 + $1000 = $3000.
There are guidelines for these education plan.
Registered Education Savings Plans
CESG – Canada Education Savings Grant
CLB – Canada Learning Bond
It will be the best help when your kid is going to go to University in 18.