From http://www.pcmag.com/article2/0,1759,1647275,00.asp
• Never tell a child to smile. Instead, give them something to smile about. Marilyn Sholin, author of Studio Portrait Photography of Children and Babies (Amherst Media 2002), suggests, "With very young children, have something hidden behind your back that is their very favorite thing. Then, when you are ready to take the photo, show it to them, and you will get an expression immediately."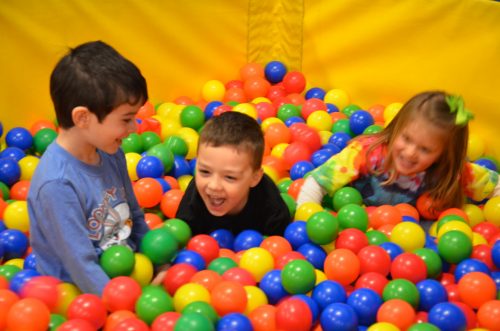 • If your child has chocolate all over his face, don't try to rub it away. That's the photo that will have more meaning to you in future years than any in which he is pristine and perfect.
• Don't pose children. If you try to force an unnatural position or attitude on your kid, the photo will be stiff and certainly won't represent who he really is. What's more, children are usually naturally graceful, and even when they aren't, sometimes it's the awkwardness of the moment that makes the picture.
• To help make your child more cooperative about getting his picture taken, have him take photos of you, of your pets, of anything he wants. He isn't likely to break your camera, and maybe some of the photos will come out nicely. Even 4 or 5 year-olds aren't too young to start taking photos with a digital camera.
• Be ready to take a picture at a moment's notice. Have the camera nearby, with batteries charged and a memory card with lots of storage space left.
• Sometimes, the quiet times of the day will yield the most beautiful photos. When he's concentrating on tying his shoe, or tasting a new flavor ice cream, or sleeping, the expression on his face can be priceless. Learn to be a quiet, non-obtrusive photographer, and you'll capture those precious times (see Figure 13-1).
• If the child doesn't know you, help him learn to be comfortable with you. You'll need to read his personality. Let him play on his own if he prefers, or join him in playing. Some children are often most comfortable on a parent's lap, and you can get great pictures that way (see Figure 13-2). Marilyn Sholin recommends, "Don't thrust yourself onto children. Never shove things at them or come on too strong. With shy children, the quieter you are, the more they will give you and the further you can go with them."
• Many children react well to out-and-out flirtation. And if you do it from behind your camera, they'll be fascinated enough to look directly at you through the lens (see Figure 13-2).
• Enjoy the moment with your child. If you're not stressed, he won't be either, and that will lead to a better picture. Besides, if the photo doesn't turn out the way you hoped, you can erase it and try again. But you can't erase the memory of a time that could have been fun and wasn't.