I got China Earthquake news just after it happen. I was surfing at 1:00AM (PST) May 12.
My friends from China send this news through MSN and QQ.
News Site reported that it is in Wenshui(汶水), Sichan(四川).
I tried to contact my friend, XiaoQing, right in Sichan. I tried different ways, such as cellphone, MSN, QQ. Even the VOIP Phone.
I sent a SMS to him through VOIPstunt.
In the morning May 12, I sat in the office and check the message. He send a message to me . Said he is OK now.
He left the building and stay out side from 2:30 PM and whole night in the park. No sleeping.
I contact him yesterday night. He is in the office. When we were chatting, he said, it shakes again, I have to go off the building. His office is in the third floor.
Later, he left the message. The company he works announced that everyone take the vacation until next announcement.
The official Xinhua News Agency said the death toll exceeded 12,000 in Sichuan province alone, and 18,645 were still buried in debris in the city of Mianyang, near the epicenter of Monday's massive, 7.9-magnitude quake.

To help the people on my homeland. I make a donation to them through Canada Red Cross.
I can not do it yesterday, because Red Cross site is under maintenance. I do it this morning.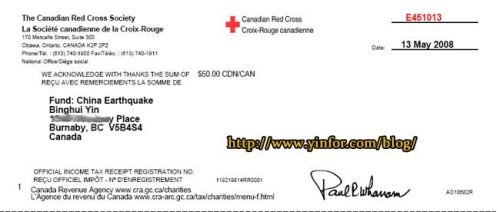 If you want to do something, you can make a donation to help them.