A lot of readers may be noticed that some ads are displayed on this blog.
One of them are provided by Text Link Ads. I put it on the right side of the Home page and the middle of every individual archive post.
Last month, December 2006, I sold one link through it. They put one text link on this Blog from 12 to 31. I got $8.02 by Paypal. Look at the payment history below,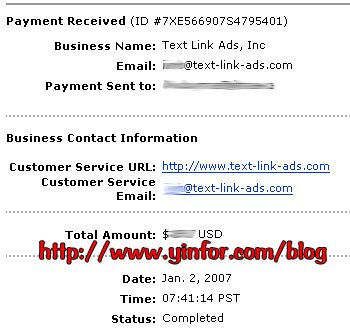 The payment turn around is about two days.
Compared with the Adbrite's net-60 payment plan, and Google's net-30, it is very very fast.
Just click the like below to apply for it. You may qualify for this program and earn some money for your Blog cost. This money is enough to pay your Domain, hosting and a cup of coffee.