I installed PC-cillin Internet Security 2006 in the office computer yesterday. The PC Magazine give the fair Editor rating to it and also give the review on 11.21.05.
PC-cillin's antivirus is excellent and its privacy/fraud protection elements do their job well, but problems with the firewall, spyware, and antispam modules prevent us from recommending this suite.
Because I use this computer in a Lan behind the firewall, so I think this one is good enough for me. I also use Firefox instead of IE, Antifraud toolbar is only working on IE. I don't care.
This program need to be trained for my own browser practice.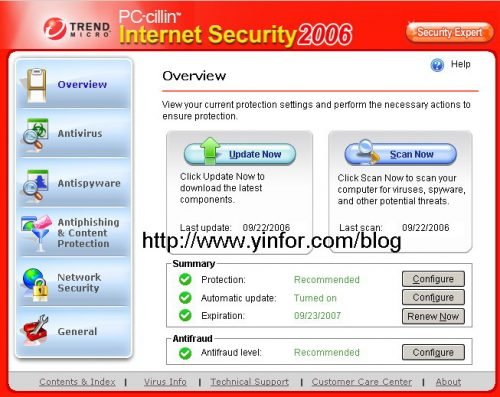 Pros
Powerful, simple antivirus. Content protection blocks access to dangerous sites; option to block inappropriate sites. Flexible privacy protection limits transmission of private data.
These are good features I like.
Cons
Firewall fails to stealth significant ports. Firewall program control is difficult to manage. Failed to remove many spyware samples. Deleting spyware is awkward. No log of spyware traces.
I don't expect PC-cillin can do good job in spyware removing. I use another program to take care of it. That's Spybot – Search & Destroy
So, all pros are what I wanted, all cons are not considered to be use. I recommend it to the people who has a computer behind the router or firewall.