I have three usb flash drives as below: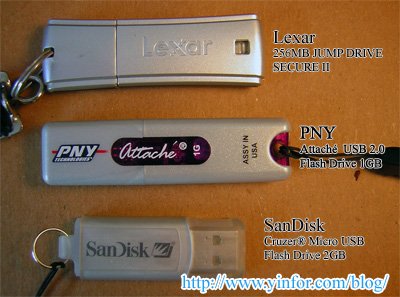 Look at the outline of these three flash drives. Lexar is esay to be lost. The ring is connected to the cap. The other two drives' lanyards link to drive body.
Compared with the dimensions: Sandisk cruzer micro is smallest.
If you go to their websites, you will find the venders have different capacity drives.
Lexar JumpDrive® Secure II USB Flash Drive has 256MB, 512MB, 1GB and 2GB.
PNY Attaché USB 2.0 Flash Drive has 128MB, 256MB, 512MB, 1GB, 2GB and 4GB.
SanDisk Cruzer® Micro USB Flash Drive has 256MB, 512MB, 1GB and 2GB.
The most important feature is security. It depends on the software shipped with.
The PNY has no software comewith. Only hardware.
Sandisk has CruzerLock 2.1 Free version encryption program. It has username password protection. All files you want to be protected can be encrypt.
You can also upgrade to CruzerLock 2 Basic by $29.99. It can extend data security to your hard drive. Basic protects your hard drive files from unauthorized access, viruses or theft and uses your CruzerDrive as the security key for accessing protected content on your PC.
Lexar has better options for users.

It has Secure II software. You can setup some encrypted vaults, and each vault can be mounted as as individual drive. They are all protected by individual password without username.
Price based on 2GB capacity at TigerDirect on August 12, 2006
SanDisk Cruzer Micro USB Flash Drive $65.99 .
Lexar Jumpdrive Secure USB2.0 Flash Drive $69.99
PNY Attache USB 2.0 Portable Flash Drive $44.99
If you don't concern the security, the cheapest PNY is your choise.
If you think the data security important, San Disk is the best.