Windows Defender is the new name of beta 2 version of Microsoft Antispyware software.
I want to install it in my office desktop, which is Windows 2000 pro SP4.
After installation, when I try to load it. The error message is said Gdiplus.dll can not be found…..
I don't know where is the problem. So Google the gdiplus.dll and get the download file. Uncompress it and copy the DLL file into e:/winnt/system/ folder.
Run Windows Defender again. OK.
If you have same problem, which is missing gdiplus.dll, Download gdiplus.dll file here.
The screen shoot shown as below: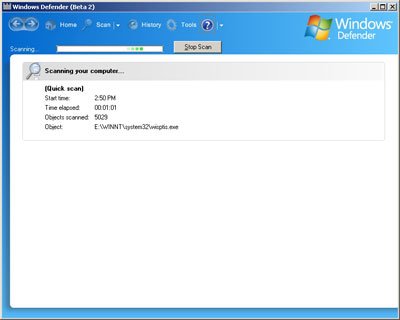 First of all, update the Windows Defender. Then with a quick scan about 2 minutes or less, the scan result shown here: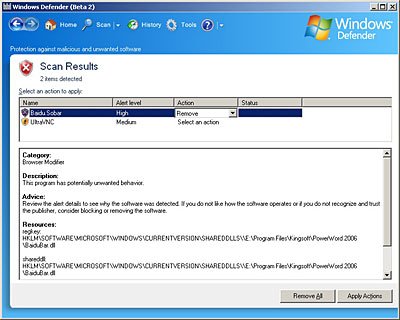 The interesting thing is Baidu.Sobar is recognized as a High Alert Level item. I removed it. The Baidu is the one of the top Search Company in China. It is not a Chinese company, but US company.
Forget about it.
Windows Defender (Beta 2) is a free program that helps protect your computer against pop-ups, slow performance, and security threats caused by spyware and other unwanted software. It features Real-Time Protection, a monitoring system that recommends actions against spyware when it's detected, and a new streamlined interface that minimizes interruptions and helps you stay productive.
The above is excerpted from the Windows Defender homepage.