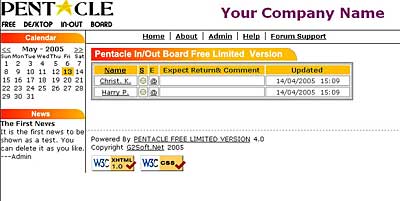 This is a web-based In-Out Board program.
It is totally free to download, use.
Pentacle (In Out Board) was started as an idea I had in the early part of 2003 when I was supposed to be running the intranet site design side of a local insurance brokerage company.
It was almost 2 months from the initial idea till the launch of Pentacle on the April 2003. During these 2 months much time was spent in researching, planning, designing, developing applications, and writing tutorials and articles.
After used internally about 2 years, I think about to share it with all other people need in/out board on their desktop .
Pentacle Free Limited Version was started, and is improvd time by time. I hope it is alway be on your desktop free of charge.
http://www.g2soft.net/

User Interface
Sort by Name or Status – click Name or S
Change the user status – click the user name.
Show the user status – point mouse on the status icon.
Show the user phone number – point mouse on the user name.
Directly email to user – click @.
Show you when the user change his/her status.
Instant news.
Clear calendar.
Administrative Interface
Site Setting
Customize site skin, 2 skins included.
Customize your company name.
Change your administrator password.
User Setting
Create new user.
Edit user information or Delete users.
News
Add news.
Edit news title, content, even the date on which the news will disappear.