This program is known from a Chinese Blog. Later I found the author is a PHD student of UBC, Matthew Brown.
AUTOSTITCH is the first fully automatic 2D image stitcher.
Sometime we call it a panorama program.
Capable of stitching full view panoramas without any user input whatsoever, AutoStitch is a breakthrough technology for panoramic photography, VR and visualisation applications.
AutoStitch is built using cutting edge research from the AI lab at UBC, but it's incredibly simple to use! Just select a set of photos, and AutoStitch does the rest: digital photos in, panoramas out.
Following is a demo photo I took outside of my office tower yesterday.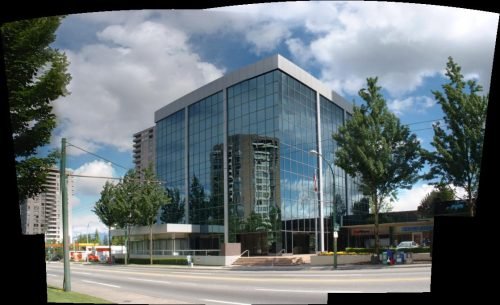 Made by 5 photos.
He is periodically updating the demo version of AutoStitch. Please download the latest version from this webpage.
It is free green program. Easy to use.
Thanks for Matthew Brown's wisdom to develop this smart program.