My old DRW-24B1st  DVD writer is not working anymore. I can not recognize most of the blank DVD-R disks. I can not use it to burn DVD or CD.
So, I have to buy a new one. I check the NCIX and at the last I bought a Liteon iHAS 124-14 24X DVDRW SATA Black DVD Writer online. The product is shipped to a UPS store near my house. The total is $25.75, no shipping fee.
It took one day to the UPS store. Pretty fast.
The Piriform Speccy tool can check the hardware information as below:
ATAPI iHAS124   F ATA Device
Media Type    DVD Writer
Name    ATAPI iHAS124 F ATA Device
Availability    Running/Full Power
Capabilities    Random Access, Supports Writing, Supports Removable Media
Read capabilities    CD-R, CD-RW, CD-ROM, DVD-ROM, DVD-R, DVD-RW, DVD+R, DVD+RW, DVD-R DL, DVD+R DL
Write capabilities    CD-R, CD-RW, DVD-R, DVD-RW, DVD+R, DVD+RW, DVD-R DL, DVD+R DL
Config Manager Error Code    Device is working properly
Config Manager User Config    FALSE
Drive    F:
Media Loaded    FALSE
SCSI Bus    1
SCSI Logical Unit    0
SCSI Port    1
SCSI Target Id    1
Status    OK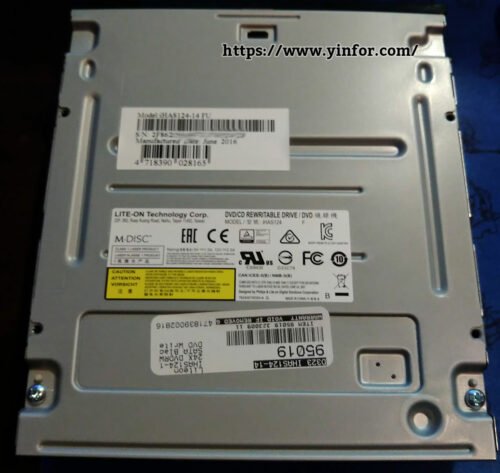 Based on the specs on cnet.com.
STORAGE
Drive Type DVD writer
Product Type DVD±RW (±R DL) / DVD-RAM drive
Enclosure Type internal
Interface Serial ATA
OPTICAL STORAGE
Form Factor 5.25″ x 1/2H
Form Factor (metric) 13.3 cm x 1/2H
Speeds 24x/24x/12x
Read Speed 48x (CD) / 16x (DVD)
Write Speed 48x (CD) / 24x (DVD±R) / 12x (DVD±R DL)
Rewrite Speed 32x (CD) / 6x (DVD-RW) / 8x (DVD+RW) / 12x (DVD-RAM)
Supported Media Types CD-R, CD-ROM, DVD-RW, CD-RW, DVD+R, DVD+R DL, DVD-RAM, DVD-ROM
Buffer Size 2 MB
Buffer Underrun Protection SMART Burn
Media Load Type tray
Features Auto Balance System (ABS), SMART-X
But the speed noted on liteonodd.com, the official site is a little bit slower.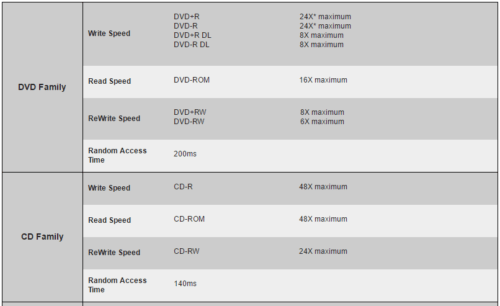 Two DVD-R disks are successfully burned this afternoon without any problem.  It made a very small noise when it is working. ABS system does a good job.