I cooked yesterday.  Main dish is braised meatballs. The huge meatballs. We call it HongShao ShiZi Tou, or braised meatballs in brown sauce. Each meatball is more than 100gs. It is 150g when raw.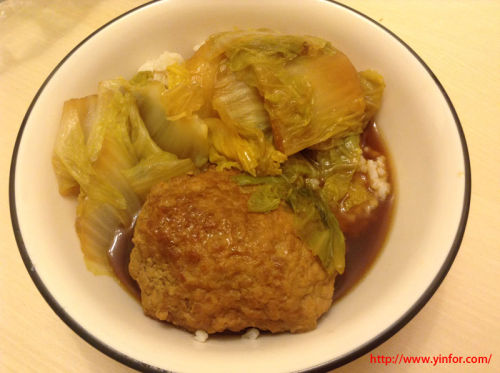 Here is the recipe.
Ingredients:
800g. ground pork(front leg portion), 600g Chinese cabbage, 4 stalks green onion, 3 slices ginger, 1 tbsp. cornstarch mix with 2 tbsp. water.
Seasonings:
A: 1/2 tsp. salt, 1/2 cup green onion & ginger juice, 1tbsp. wine, 1 tbsp. soy sauce, 1 egg, 1tbsp. cornstarch, a little bit peper
B: 2 tbsp. soy sauce, 1/4 tsp. salt, 2 1/2 cups water or soup stock
Procedures:
1. Chop the pork again. Place in a large bowl.
2. Crush green onion and ginger, soak in 1/2 cup of water for 5 minutes to make the green onion and ginger juice.
3. Add seasonings A according to the sequence, stir in one direction until the pork mixture is very sticky.
4. Wet your hands with cornstarch water, make 6 meatballs. Heat 4 tablesoons of oil in wok. Fry the meatballs one by one until golden brown.
5. Remove to a casserole dish that is already lined with fried green onion, add seasonings B in. Bring to a boil; simmer for 1 and 1/2 hours.
6. Trim Chinese cabbage, cut into wide sections, blanch until soft. Add cabbage to meatballs, cook until cabbage is soft enough and about 1/2 cup of stock left.
This is a traditional Shanghainese homestyle disk.
I just use ground pork I bought at Costco.
On Step 4,  I have a large fry pan, fry them all together.
If you like soup, you can keep more stock. The picture above is half bowl of rice, covering by braised meatballs.