I bought a SD card at Staples. When I check their website, Kingston 8GB, 16GB, 32GB cards are on sale.
But, when I went to store, only one 8GB on the rack. So, I have no choice to get it. It is only $8.94 with tax. Kingston is a good brand. I have some other sd card or micro-sd with this brand. Its products have good quality and you should not worry about the data in it.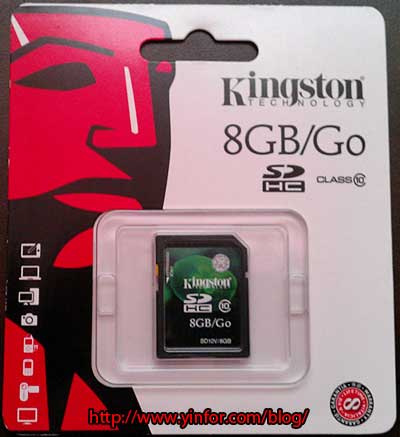 See the front of card, I want to know the meaning of the standard.
SDHC
The Secure Digital High Capacity (SDHC) format, defined in Version 2.0 of the SD specification, supports cards with capacities up to 32 GB. The SDHC trademark is licensed to ensure compatibility.
SDHC cards are physically and electrically identical to standard-capacity SD cards (SDSC). The major compatibility issues between SDHC and SDSC cards are the redefinition of the Card-Specific Data (CSD) register in Version 2.0, and the fact that SDHC cards are shipped preformatted with the FAT32 file system.
Host devices that accept SDHC cards are required to accept SDSC cards. However, host devices designed for SDSC do not recognize SDHC or SDXC memory cards, although some devices can do so through a firmware upgrade. Older operating systems require patches to support SDHC. For instance, Microsoft Windows XP before SP3 requires a patch to support access to SDHC cards. Windows Vista SP1 also requires a later service pack.
vi wiki
Class 10
Speed Class 10 High Speed Bus I/F Can support Full HD video recording / HD still consecutive recording
Speed Class Rating: Class 10: 10MB/s guaranteed minimum data transfer rate
I used CrystalDiskMark 64bit 3.0.1c to test this card.
http://crystalmark.info/download/index-e.html#CrystalDiskMark
1000MB seq test result are, read 19.97MB/s. write 12.02MB/s.