It is the second day of school. I was thinking about to prepare the keys for my daughters. Today, I went to Victory Trophies Store. It is close to my house.
I talked to the lady in the store. She said the store is here for 30 years. I saw a lot of trophies in display.
Two keys are picked. One is Garfield, the other one is a Guitar.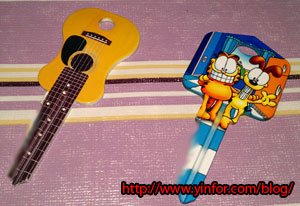 One key is perfect OK. The other one is not working.
I bring the key back to the store. The lady tried to fixed and it is still not working.

So that the lady make a brand new one. Finally this one works.
The customer does not have to worry about the quality of products. I am satisfied with their service.
They sell trophies, they repair trophies. Actually not just trophies, but also all kinds of awards staffs.
Check their online category here.