This blog has some error last week. Some pages were not build correctly.
I diagnosed it and found the template was broken. A bunch of codes were missing.
I want to find the backup of MySQL database.
Go to Dreamhost Web Panel > Goodies > Manage MySQL
Next to the database name, there are four links. One of them is Restore DB.


Click Restore DB, and go the following page.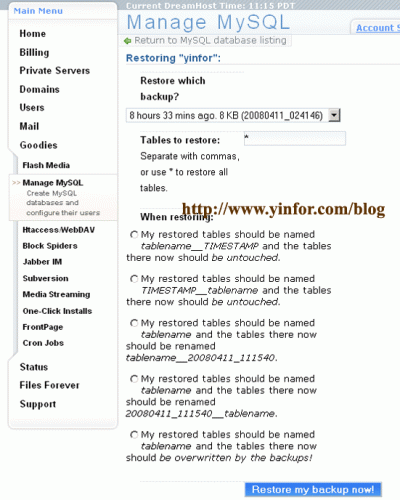 So, I saw last six days backups of MySQL database. When I restore I can choose which backup I like and which table I want and the restored table(s) new name.
After restore it. I go to the PhpMyAdmin tool provided by Dreamhost.
It is easy to use the PhpMyAdmin. I copy the content of template backup to replace the current corrupted one. Then rebuild the whole site. Everything comes back.
Thanks to Dreamhost automatic database backup.