Got this 3Port HDMI Switch on Amazon from the third party seller. Cost $5.97.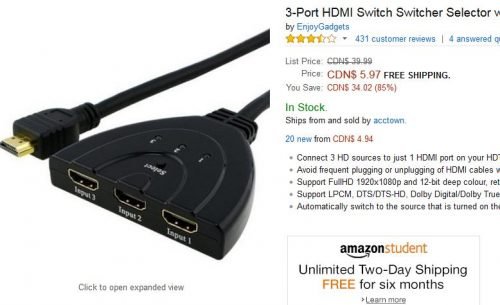 It took about one month for shipping from China Mainland.
I tested it with my XBOX, but the screen is blinking and also tried with my Xiaomi Box, failed.
I read the reviews on Amazon. Found the following:
Beware… This thing is not HDCP compliant so, it is unusable with the PS3 and PS4. On my PS4, it kinda works for a few minutes and then the screen starts to blink on and off. On my PS3 there is "snow" in the display and since it is not 1983 anymore….

My Roku and my AppleTv are always on (no off option on those devices) the automatic switching does not work for these devices, so it does not really offer a big plus over unplugging and re-plugging HDMI cables…

I guess it could work to split HDMI in between a PVR and a standard Blu-Ray player, but it is of no use for game consoles and for Roku/AppleTv users.
Now I opened it. See what looks like inside.