Just few days ago, Linode did the hardware upgrade at Fremont data center. After that, I wait until today. I ask the support, when I can get the new CPU. The support replied and advise me that it will be a upgrade migration procedure.
I checked my Linode Manager control panel. Her it is. a huge yellow zone remind me there is a migration pending for me.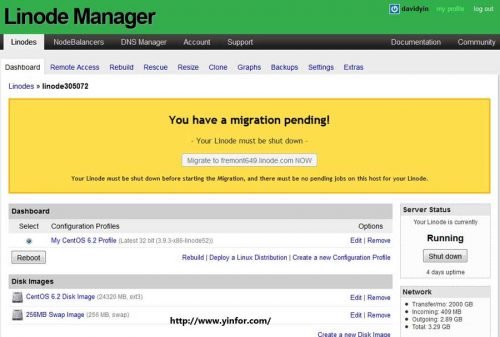 I follow the instruction, first click the shut down button, then click the Migrate to fremont649.linode.com Now button.
Wait about five minutes, I boot the linode.
The UnixBench result is improved from 1186 to 1619 now.
It is a huger improvement.
It is one of the best VPS on planet. Click here to find it out by yourself.
Old platform is intel Xeon L5630
New platform is intel Xeon E5-2670
CPU comparison link
Clock Speed: 2.13GHz vs 2.60GHz
L2 Cache: 1MB vs 2MB
L3 Cache: 12MB vs 20MB