I make an online order at DX.com. Actually I just did an order last month. But this time there is a little bit different when I use PayPal to pay this order.
It displayed an option on PayPal payment window. The option is to let me choose Pay After Delivery. What is the Pay After Delivery?
With Pay After Delivery, you don't have to pay for your purchase until after you receive your item. Only certain purchases offer Pay After Delivery as a payment method. If it's available, you'll see the option on the Review Your Information page during checkout. There is no fee to schedule a payment using Pay After Delivery.
When you use Pay After Delivery, we pay the seller right away, so there's no delay in sending you the item. We withdraw the payment from your bank account 14 days later.
You still have full coverage on your payments. If you don't receive your item or the item isn't what you expected, just let us know by reporting a problem in the PayPal Resolution Center. If you report the problem within 14 days of making your purchase, we'll put your payment on hold and you won't pay until the dispute is resolved.
I make the order on Oct. 1. The payment is scheduled on Oct 22, 2012. So, it looks like more than 14 days. Maybe it means 14 business day.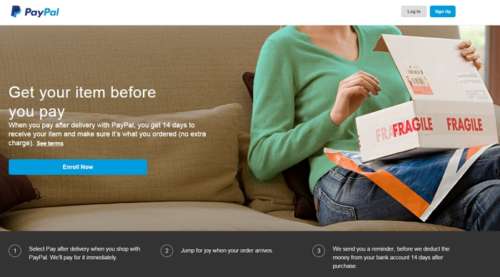 Here is some requirement for this service.
You need a confirmed bank linked to your PayPal account to use Pay After Delivery.
If there isn't enough money in your bank account to complete your scheduled Pay After Delivery payment, we'll use your backup payment method. We make two attempts to debit your bank account for a payment before we use your backup payment method.
If the Pay After Delivery option doesn't appear during checkout, it's not available to you yet. We are in the process making this feature available to more customers in the near future.
Be noted, PayPal will withdraw the money from the primary bank account, not from the PayPal balance.
It is an option. It is not available to all PayPal users. It is not available to all purchase.
For more details, see official site.