Got a TrendNet TV-IP501W from Dell.ca. It costed me $82.31 Canadian dollors.
It is DISCONTINUED PRODUCT, based on TRENDnet official site.
Here is the feature list:
Wi-Fi compliant with IEEE 802.11b/g standards
Compatible with 802.11n wireless networks when set to 802.11n/g/b mixed mode
Wireless encryption support for WEP, WPA-PSK and WPA2-PSK standards
45 degree horizontal and 35 degree vertical viewing angle
4.57mm focal length and 1.9 F/No
4x digital zoom
Option to provide a hardwire network connection with the 1x 10/100Mbps Fast Ethernet port
High quality MJPEG video recording with up to 30 frames per second
Resolution up to VGA: 640 x 480 pixels
Included camera mounting kit
Hear sound from the built in microphone
Supports TCP/IP networking, SMTP Email, HTTP and other Internet protocols
Motion detection triggered email alerts and image upload via FTP
Multiple adjustable motion detection windows with just-in-time snapshot
Quick Universal Plug and Play (UPnP) installation
Complimentary IPView Pro 2.0 software: manage up to 32 IP View cameras *
Complimentary IPView software: supports Windows XP andVista operating systems
3-year limited warranty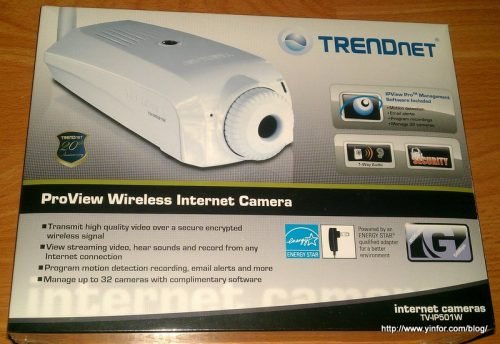 See the content: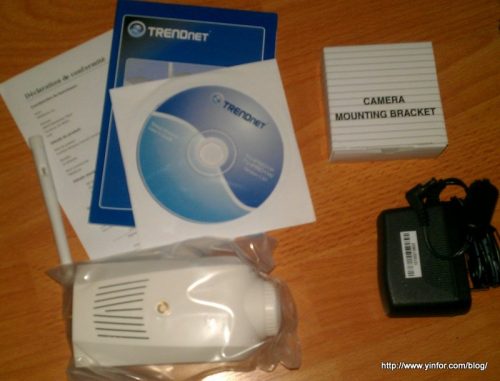 I am using it as a remote webcam. Check my basement when I am on the third floor, or in the office.
WiFi is not working at my place. Only when I use very simple password, such as 12345678, WiFi encrypt WPA will work. Even I use a all letter password, it failed. I spended a whole week to contact the support staff of TRENDnet. Finally, I have to say, I give up WiFi. I use wired connecting now.