Web, as a wild place, is not a safe playground to me. I have a server, got so many attacking everyday. It is only two small sites running on it.
What can I do? I have to protect myself by my computer skills.
I install and enabled PAM_abl black list function for SSH security.
Now four days passed. Let us see how the result.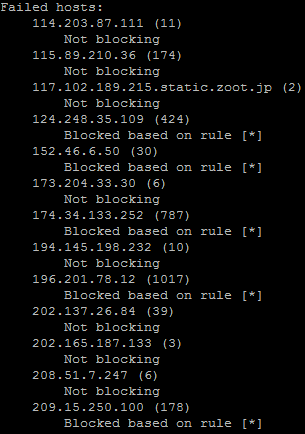 One IP tried 424 times to login.
The other tried more than one thousand times.
I have to say, it is a good tool to protect my SSH server and save a lot of resource.
The top three IPs and countries are following:
196.201.78.12 COTE D'IVOIRE
174.34.133.252 UNITED STATES
124.248.35.109 CHINA
The longer the system running, the more IP will be logged.