Some people like to listen concert two or three times a year. They do not want to take a travel just for a concert. So the local concert tickets events watch will be very important.
They may get the information from the newspaper. They have to check it out every day.
It is such a waste time job.
Here I want to introduce a web site have your local Concert Tickets information. It is also give you an option to subscribe the event alerts email. You will receive up to the minute alerts on tickets, exclusive events, and discounts. It is so wonderful. You sit at home and your email alert will tell you what next concert events will be held in your city.
It is provided by TicketFeeder. TicketFeeder offer an online premium event ticket sales service. They provide sold out and premium tickets online.
Look the screen shot below.
The site auto-detection function gave the site information about my location. It is Burnaby. If you find it is not correct, you can manually change it by click "Change Location".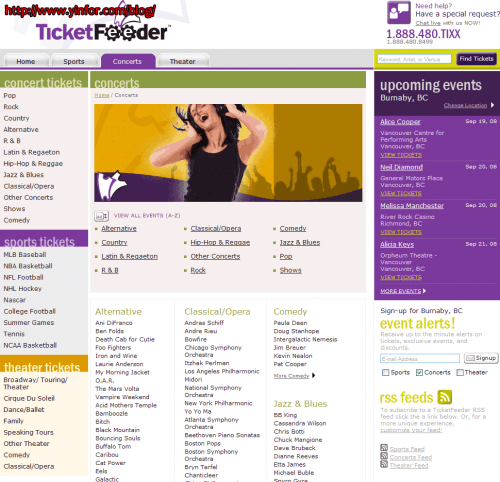 It show me some concert tickets information next week.
Click the event link, I landed on a event page with a lot of information.
Including number of tickets left, prices per ticket zone.
TicketFeeder charge a Exchange Fee at all tickets transaction.