WidgetBucks is an advertising network that gives a widget that displays shopping ads. When a reader clicks on the widget and visits the advertiser, you make money. WidgetBucks runs on a CPC model – you get paid when readers clicks on the ads – they do not have to make a purchase from the advertiser. WidgetBucks claims $3 to $6 eCPM in early test results.
It looks better than a lot of other CPC program. The average earning per click is about $0.20.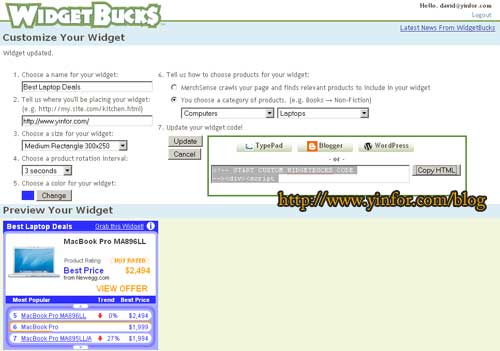 WidgetBucks has built-in code generator for TypePad, WordPress and Blogger. And it also provide a generic code for other blog platform.
The ads displayed on the site will depends on your choice of category or let MerchSense crawl your content and match it.
Now it has 8 sizes with 16 format. The color of ads are unlimited, because you can enter the HEX color code.
WidgetBucks is ideal for technology and shopping related sites and blogs. However, WidgetBucks is opening their widgets to everyone. There are no minimum requirements to join and the minimum payout is $50.
The Signup bonus is $25. So make $25 with WidgetBucks and you will get the first payout $50.

The traffic and earnings in one month will be finalized during the first ten days of the subsequent month.
Payment is issued up to 45 days following the month your account balance reaches $50.00 or more.
More Ads options are alway good.
Sign Up WidgetBucks now.