Some Google fans may already knew that Gmail can retrive email from your other email account by POP3, such as your Yahoo email account or your ISP email account.
Not everyone can access this feature. It is open to the limited Gmail users.
I have Gmail account for years. Today I saw this feature in my Gmail account settings page.
They call it Mail Fetcher.
Let's go through the whole steps to add one account:
0) Login you Gmail account.
1) Click Settings from the top of any Gmail page.
2) Click Accounts.
3) In the Get mail from other accounts section, click Add another mail account.


If you do not see this section as above, you can not fetch email through Gmail. You have to wait until you can access this part.

4) Enter the full email address of the account you'd like to access, then click Next Step.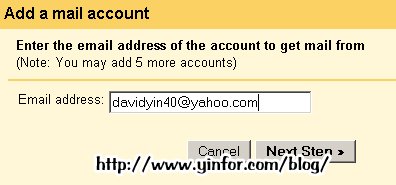 The email in the above picture is just for show you how to do the following steps, not a real email address, do not send email to this email address.
There is a notice, shown that only 5 email account can be added.
5) Gmail will populate the Username and POP Server fields when possible, based on your email address. Enter your Password.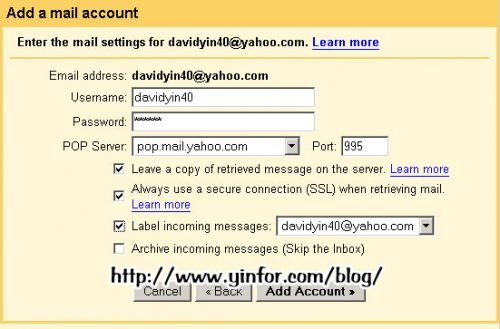 The POP3 server address and other setting will be automatically populated.
6) Four options for you
This part is more important for successfully fetch your other emails. Basically, these setting is default selected for you. You still have to decide whether you want to keep a copy in the original email server. Label email is very easy for you to identify the receiver of your email.
SSL is selected for you by Gmail.
The last option, archive, is only when you want this Gmail account to be a archiving email address.
7) It is done when you click Add Account.
8) Once your account has been added successfully, you'll have the option of setting it as a custom From address. This allows you to compose messages in Gmail, but have them appear to be sent from your other email account. Click Yes to set up a custom From address.
In this section you still need to follow the procedure of verify your ownership of this email account. I think this step is wasting time for Email Fetcher. You have the email password, that's good enough to prove it.