During past month, my wife always use my workstation to play the game, "tetris", in the ourgames.com. This is a huge online game community. You can choose a person from over 500+ in one game any time.
Now it is 10:30am Pacific time, there are over 150,000 gamers online.
This site is based on China, but the players are from the world.
Ok, back to upgrade PC. To release my computer, I have to upgrade my wife's old pc. She can not use the old one to play online game, it is too slow. Always lose out.
The job of her computer is to check emails, internet phone, online games, and some office documentation.
My budget is about $300. After studying the pc market and comparing the different platforms. I choose the following products to upgrade it.

CPU AMD Sempron 2800+ 64bit. This one just came into market. Still in promotion stage. Compare with 2600+ 64bit's 128KB cache, it has 256KB.
Specification
Process Type: AMD Sempron 2800+
Frequence: 1.6GHz
FSB: 1600MHz HT Speed
Cache(L1/L2): 128/256 KB
Process: 90 nm
Socket: Socket 754
Package: Retail
Stepping: REV-E6
64 Bit, Palarmo Core
Motherboard ASUS K8V-X.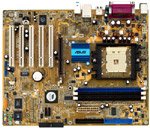 Specification
System Bus 800MHz
Chipset VIA K8T800 VIA VT8237
Memory 3 x 184-pin DIMM Sockets support max. 3GB un-buffered ECC and non-ECC PC3200/PC2700 / PC2100 DDR SDRAM memory
Expansion Slots 1 x AGP 8X 5x PCI
Storage South Bridge 2 x ATA133, 2 x SATA, RAID0, RAID1
Audio ADI AD1980, 6-channel CODEC, S/PDIF out interface
LAN Marvell 88E 8001 GbLAN
USB2.0 8 USB2.0 ports
Special Features AMD Cool 'n' Quiet! Technology
Overclock Features – ASUS JumperFree
– Memory, Vlink voltage adjustable
– Adjustable FSB/DDR ratio
– SFS(Stepless Frequency Selection) from 200 MHz up to 300MHz at 1MHz increment
Last one is memory 512MB.
Total amount plus tax is $274.
When I want to install them into the old case, I found it is too small and power supply can not work with the new items.
So, I bought a new case with powersupply valued $60. Brand name is AOPEN.
Now it works, everything is fine. I press the power button. the screen gave me an error code 0163. After serch the forum of ASUS, I try to upgrade the BIOS to v1011. The bios can identify new Sempro 64bit processor now. Error gone.
Rest of installation for whole operating system, and drivers and program are very boring. I don't want to write to make you boring too.