Recently, I received letters from almost all my bank accounts. They are for the same reason.
New Electronic Alerts from your Bank
For example, the letter from Canadian Tire Bank for my Mastercard. It said that the bank will send me a message or email when the credit falls below $100. It starts in June 2022.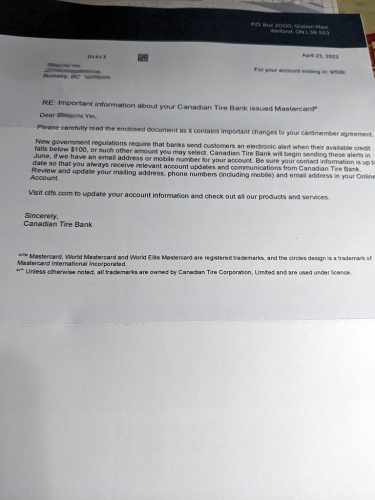 It is just one bank. Actually, I got a lot from other banks.
I did some research and found the Government of Canada has a page for this new regulation.
Your bank must send you electronic alerts in 2 situations:

When the balance of your chequing or savings account (also referred to as personal deposit accounts) falls below $100 or an amount you've set
When the credit available on your credit card or personal line of credit falls below $100 or an amount you've set

Your bank will automatically set the electronic alerts to $100. You may ask your bank to set them to a different amount.

The alerts must tell you what charges or penalties may apply to current or future transactions. This includes when you don't have enough money to cover a payment. The alerts must also inform you of the steps you may take to avoid charges or penalties.

Your bank will send the new alerts to you automatically. You don't have to sign up, but you may opt out at any time by informing your bank in writing. This could be done by email.

The alerts don't apply to accounts opened for business purposes.
It is good to protect the bank customers. To help us manage the bank saving account:
make sure you have enough money in your personal account to cover withdrawals, purchases or pre-authorized payments such as bills
make timely decisions to avoid unnecessary fees, including late payment charges or non-sufficient funds (NSF) fees
It also helps us to manage the credit card and lines of credit: The bank will alert us when we are approaching the credit limit.
Its real name is Financial Consumer Protection Framework.
Effective on June 30, 2022.