Vienna, Austria, September 12, 1955: After World War II, Austria was divided between four countries: America, France, the United Kingdom, and Russia, which was still communist. The section of Austria controlled by the communists was the richest and included the city of Vienna. The Viennese were subject to all the atrocities and tyrannies of communism.
With all of his country's problems weighing heavily on his heart, Capuchin Fr. Petrus Pavlicek made a pilgrimage to Mariazell, the principle Marian shrine in Austria. While deep in prayer before the miraculous image of Our Lady above the shrine's high altar, he was told by an interior voice: "Do as I say and there will be peace."
To obey this inspiration of Our Lady, Fr. Pavlicek founded the Holy Rosary Crusade of Reparation in 1947. This Crusade consisted of the Viennese faithful coming out of their homes in order to participate in a public Rosary procession in the streets of the city. The intentions of the Rosary were for the end of communism in their country and in the world. Father traveled throughout Austria with a statue of Our Lady of Fatima promoting the Rosary Crusade. At first, the processions were miniscule, but in time they grew to staggering proportions. The Prime Minister and other members of the Austrian government soon joined the ranks, along with all of the nation's bishops.
In 1955, after eight years spreading the word about the Crusade throughout Austria, the Rosary processions would reach the size of half a million people, about one-tenth of the Austrian population. Finally,m through the help of Our Lady, the Soviet forces pulled out of Austria in October of 1955, leaving the country for good.
Each year on September 12th, the feast of the Holy Name of Mary, thousands gather in Vienna to thank the Mother of God for her intercession in freeing their country from communist domination.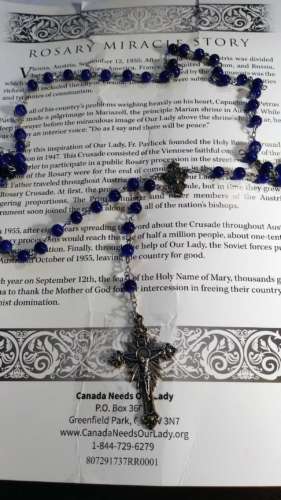 — Canada Needs Our Lady.
The above paragraph is copied from the print of the rosary as a gift from my wife, Vivian.