I would like to introduce this Free Paint program. Tux Paint.
My daughter, Grace, loves it. She still remember that she played it one year ago when I use Edubuntu.
Actually, I installed it in Windows XP yesterday.
Yes, this program is Open Source and can run on a variety of platforms, including all versions of Windows (including Tablet PC), Mac OS X 10.3 and up, Linux, FreeBSD and NetBSD. It works well on older, slower systems, as well as thin-clients such as LTSP, Citrix® and Windows Terminal Services. It even runs on some handheld computers!
Let's see a screenshot.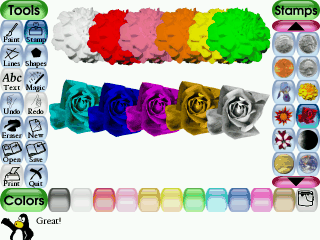 Look, kids will like it. This drawing program for children ages 3 to 12 (for example, preschool and K-6 in the US, key stages 1 & 2 in the UK). It combines an easy-to-use interface, fun sound effects, and an encouraging cartoon mascot who guides children as they use the program.
If you have a kid in this age range, just click here to download and install it.
I promise your child will say thank you to me.