I read the book, the Pension Puzzle, last two week. Not very carefully. Just a very quick go through.
It is the third edition. This book covers almost all benefit the Canadian will receive when get into retire life.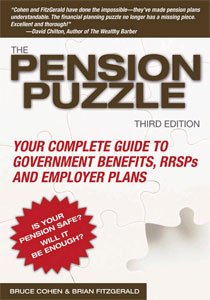 There are three types of pension.
1) From the Government
It includes OAS, Low-income Supplements and CPP/QPP.
2) From the Employer
Employer Pension Plan, not every Canadian may have it.
3) From your own personal benefit plan
Every canadian knows, it is RRSP, RRIF and Annuities.
After finishing this book, you will know how much you will get from Government. And you will make a more suitable personal saving plan for your future best retirement.