2013/08/29 Update: Google shuts down Picassa for Linux in early 2012. Download links are removed.
Now we can use the free picasa in the Linux.
There are three package can be download
Free Download (.rpm) – for Red Hat/Fedora/Suse/Mandriva x86
Free Download (.deb) – for Debian/Ubuntu x86
Free Download (.bin) – Self-extracting installer, for any x86 Linux distribution
This Picasa can run on the 764-bit linux with 32-bit compatibility libraries.
What's different between the Windows version of Picasa and Picasa for Linux?
For the people used Picasa for windows, there are a few differences between windows version and linux version as below:
+ Picasa for Linux is currently available only in the U.S., with an English interface.
+ Google's Hello photo-messaging application is Windows only, so it's not currently integrated with Picasa for Linux.
+ CD burning isn't supported in Picasa for Linux. The button will be grayed out in the interface. The CD-ROM-burning library used by Picasa uses a Windows driver that's not easy to support on Wine.
+ Similarly, the backup feature is not supported.
+ There's currently no Export to TiVo® feature.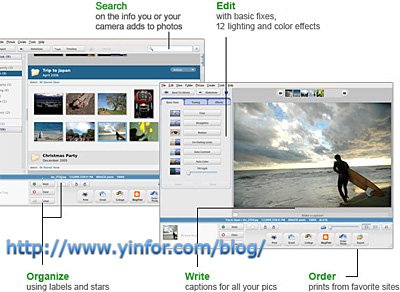 There are some limited features provided in this linux version.
Organize and Search photos
Find the pictures you forgot you had.
Move and re-name pictures from inside Picasa.
Add a star rating.
Keep one picture in multiple albums.
Password-protect collections.
Edit and Write photos
Basic Fixes are back – and better.
Write captions that stay with the picture.
Picasa makes captions the way journalists do – using the IPTC standard. That means your captions are saved within their pictures and stay with them, whether you export as a web page or make a CD presentation. Picasa captions are fully editable and searchable, and you choose whether to display them or not.
Order prints
Export pictures to popular photo processing websites.
You can pick photos straight out of Picasa and upload them directly to your favourite photo finishers to order prints and other products.
Some features on Windows version are not provided in linux version. I think they will come later.