From the Sohu News, Hu Jintao will arrive at Seattle about 6AM. In the first day, he will visit Microsoft head office.
The welcome dinner will be arranged at Bill Gates House.
This is Bill Gates' House.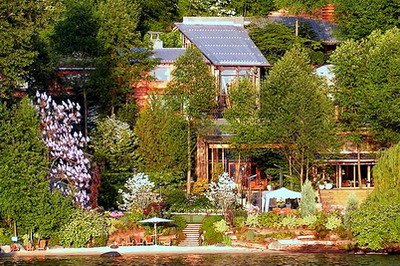 The more information can be accessed from Bill Gates House, Inside Pictures of Bill Gates House. It shows some details about this smart house.
It took seven years to build the 40,000-square-foot Bill Gates mansion on a wooded five-acre compound in the moneyed Seattle suburb of Medina. [Bill Gates House Address: 1835 73rd Ave NE, Medina, WA 98039 map – arial photo] Much of the Bill Gates house is built underground into the hill, so the house looks smaller than it actually is. Unfortunately the hidden section underground did not escape the taxman's view; Bill paid over a million dollars last year on property taxes.
Earlier, Bill Gates organized a private party at his waterfront mansion. The U.S. Department of Homeland Security announced a "temporary security zone" around Gates' Lake Washington home which locked down all of Lake Washington south of the Highway 520 bridge and stayed in effect for two days. Gates' homestead is approximately 48,000 square feet with a garage that reportedly accommodates 30 cars.

Here is interactive description of this house from US.NEWS.
Hu is a smart leader. I trust he knows what should do, and what can do. Basically I am Chinese. And also I am a Canadian same time. If I don't like this government of Canada, I can vote against this party in the next general voting.
If I don't like China's government, I can not vote against it. Because we can not vote directly for the leader of whole country. The another techinical problem is there is no real out-party. Even in this sitution, I joined the CP. I hope the country will change some time. Ten years, twenty years. Better and better.
Hu is an example. He is better than Jiang. The next one will be much better.
China will be better.