Yahoo has the new service, Yahoo! 360, which is similar to the MSN Spaces. Like all Web 2.0 products, it is beta version.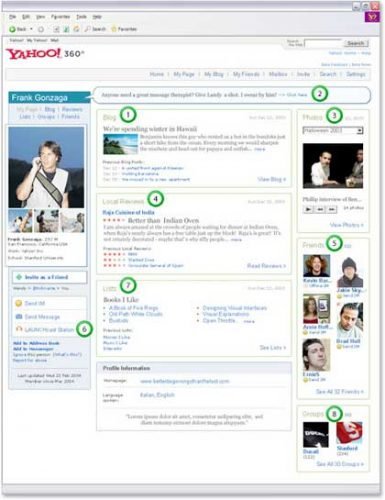 1. Blog
Create your own blog or online journal. Share thoughts, experiences, pictures with your friends.
2. Blast
Share a quick communication your friends can reply to — an idea, attitude, question, or web link.
3. Photos
Let your friends view your Yahoo! Photos albums.
4. Local Reviews
Coming Soon – Rate and review local restaurants and businesses, and share with your friends.
5. Friends
Show your linked friends.
6. LAUNCHcast Station
Let your friends listen to your LAUNCHcast music station.
7. Lists
Create and share lists of your favourite books, movies, music, TV programmes and more.
8. Groups
Let your friends see the Yahoo! Groups to which you belong.

It is a social tool. So everyone will has a blog-like personal webpage.