HOW-TO configure the SPA2002 with VoIPStunt for dummies.
First of all I would like to say thank you to this Guy Chris Järnåker. I don't know who he is, but his post is very helpful to make the free call dream comes true.
Step 1 Picking a VoIP provider
Calling over the internet will not work if you don't have a VoIP provider.
What is that? Well imagine this, your computer calls over the internet -to- a server somewhere -and- this server has a connection to the regular telephone network. The company that owns the server is the VoIP provider. They provide you with Voice over the Internet functionality.
Skype is such company, another one is Vonage, another one is Net2Phone. But then you have the smaller companies that try to beat themselves into the market, like VoIPBuster, by using "Call with us for free to landlines" deals. Simple business knowledge tell us that there is not such thing as "free" so what is this all about? Let me explain (my theory at least, the companies themselves won't tell us, duh)
A company, lets call them AAA, starts providing free internet calls to fixed phones in many countries. To be able to use their service you need to buy credit worth of €10 / $12 and it will be valid for 4 months. People flock to that company with their great deal.
After six months AAA has enough users to start earning money so they remove the expensive free destinations like China and countries in Africa, and start charging below average rates (so you'll still save money with them even though it's not for free)
But now AAA will not get that many more new users as it's not for free any more so then they start company BBB with the same initial deal as AAA. A new company, a new website, but using the same infrastructure as AAA. The old users of AAA are still satisfied and will probably stay but the new users rather go to BBB.
VoIPBuster is one of these companies (AAA), then came SIPDiscount, VoIPCheap.co.uk and last VoIPStunt.com
Compare their websites and you'll see that they're looking basically the same. To sign up doesn't cost anything and you're allowed to test out their service but the free calls are limited to 1 minute.
Go to www.VoIPStunt.com and sign up for an account. It won't cost you anything as long as you're testing.
By paying 10 bucks every four months you can call for free to a number of countries. And when the time comes that it's not for free any more then you can still call for very very little money. Example from the Netherlands to USA: VoIPStunt currently for free, VoIPBuster (used to be for free) 1ct / min, Tele2 (regular phone) 5ct / min, KPN (state landline) 7ct / min.
VOIP Stunt Free call list: (current list on Feb.20, 2006)
Argentina, Australia, Austria, Belgium, Canada, Chile, China, Croatia, Cyprus, Denmark, Finland, France, Germany, Gibraltar, Hong Kong, Hungary, Iceland, Ireland, Italy, Japan, Liechtenstein, Luxembourg, Malaysia, Monaco, Netherlands, New Zealand, Norway, Poland, Portugal, Singapore, South Korea, Spain, Sweden, Switzerland, Taiwan, United Kingdom, United States.
To sign a account on VoipStunt is very easy. Download a softphone software from its site, install it in your computer. Create a new account when you first run this softphone.

Step 2 Picking the hardware, Sipura
There are many different Voip adapters in the market. Sipura is a one of the best providers, which is owned by CISCO.
It has a complete product line, from SPA1001, SPA2002, to SPA3000. You can not find it in the Canadian local store. I find one voxilla online store with Vancouver office. I order one SPA2002 online and pick it up directly from their store in downtown Vancouver. It save me about one or two weeks.
The thing I suggested is if you don't want mix your VOIP phone with your PSTN phone( landline phone), choose SPA1001 or SPA 2002. The difference between these these two module is SPA 2002 has two ports, but SPA1001 has one only. More details go to www.sipura.com
I want to order SPA1001 of C$75.75, but out of stock. So finally, I paid C$88.75 for SPA2002.
Step 3 Configure it through web interface
Connect the adpater and your telephone and Lan or internet first.
Find IP address of the SPA2002. I find it through the router information page.
You can find it by phone: First pick up the phone and press **** then after the voice is done press 110# and the voice tells the IP address like 130.144.42.224 which is your IP number.
Now when you have the Sipura's ip address we can log onto the web interface. Simply open your web browser and type http://xxx.xxx.xxx.xxx/admin/advanced, and in my case it would be http://130.144.42.224/admin/advanced. You will get directly into the Info page of the Sipura where you can see what is currently going on.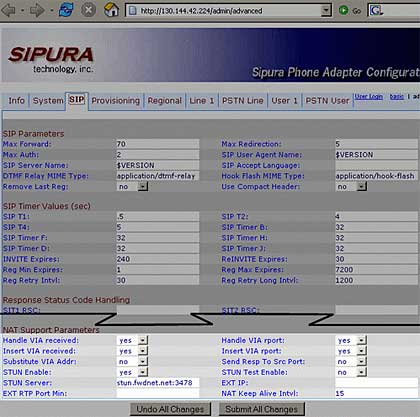 Handle VIA received: YES
Insert VIA received: YES
Substitute VIA Addr: NO
STUN Enable: YES
STUN Server: stun.fwdnet.net:3478
Handle VIA rport: YES
Insert VIA rport: YES
Send Resp To Src Port: NO
STUN Test Enable: NO
EXT IP: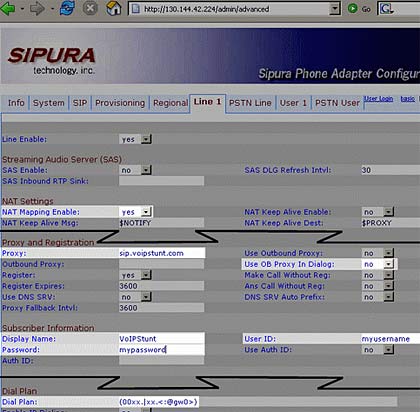 NAT Mapping enable: YES
This will tell the Sipura that you are behind a router.
Proxy: sip.voipstunt.com
This is the server that the call will be made to. If you have another provider then it will be something else.
Use OB Proxy in dialog: NO
Display name: VoIPStunt This can really be whatever you want to call it. It's just a name.
User ID: myusername This is the account name that you have. It's usually the same as the login name you have when you logon to your VoIP providers webpage.
Password: mypassword The password that you have for your account.
Dial Plan: (00xx.) This field tells the SPA2002 what should happen when you enter a phone number on your phone.
In this case this means: Any number starting with 00 and then anything after should use Line1.
Step 4 Done, let's test it
Now, hold your breath! If you disconnected any cables earlier then plug them back in and pick up the phone. You should hear a dial tone.
Testing the VoIP line: Call a friend internationally. If the landline phone number is in the states then dial 001+areacode+phone number, in the China 0086+areacode+phone number. You should hear the phone ringing and if your friend is home then he might even pick up.
I tried one call to San Francisco, one call to Shanghai, Chian, one call to cellphone of China when I finish all three steps above. All success and voice is clear, no delay.
Something you should know:
The SPA2002 adapter is very hot when you use the phone conversation for a long time. Even the phone is on hook, the adapter is still hot.
It need more time than the regular PSTN phone to establish the connection to the other end. So wait more time to get the phone ring on the other side.