This is the second part of the Miracle Prayers brochure.
Intercession Prayer
Saint Faustina, you told us that your mission would continue after your death and that you would not forget us. (Diary, 281, 1582)
Our Lord also granted you a great privilege. Telling you to "Distribute graces as you will, to whom you will, and when you will"(31)
Relying on this I ask your intercession for the graces I especially need ……… (mention your need)
Help me, above all, to trust in Jesus as you did, and thus glorify His mercy every moment in my life.
Conversion Prayer
Jesus said: " I desire that you know more profoundly the love that burns in My Heart for souls, and you will understand this when you meditate upon My Passion. Call upon My Mercy on behalf of sinners; I desire their salvation. When you say this prayer, with a contrite heart and with faith on behalf of some sinner, I will give that person the grace of conversion".
This is the prayer:
say in front of the Image of Divine Mercy
O Blood and Water, which gushed forth from the Heart of Jesus as a fount of mercy for us, I trust in You. (1,187)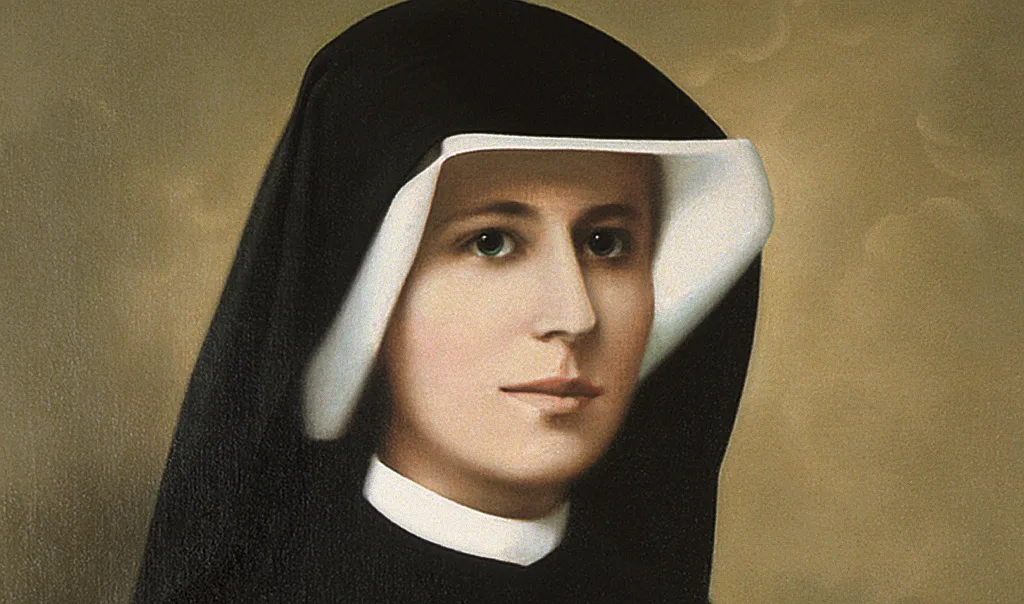 Saint Faustina's Healing Prayer
"Jesus may Your pure and healthy blood circulate in my poor ailing organism, and may Your pure and healthy body transform my weak unhealthy body, and may a healthy and vigorous life flow once again within me, if it is truly Your Holy will, Amen.
The Life of Saint Faustina
Saint Faustina was born Helen Kowalska on 25th August 1905 in the village of Glogowiec near Lodz, Poland as the third of ten children. From her childhood she was distinguished by a love of prayer, diligence at work, obedience, and a sensitivity for the poor.
At the age of twenty, she entered the Congregation of the Sisters of Our Lady of Mercy in which she spent thirteen years of her life as a quiet, humble, and hard-working sister. Her life as a religious was marked with the stigma of suffering, but also with extraordinary mystical graces, especially that of frequently conversing with Our Lord about His mercy.
Worn out and weakened by tuberculosis and the sufferings she bore in sacrifice for sinners, Saint Faustina died in the odour of sanctity in Cracow on October 5th, 1938 at the age of 33.
Pope John Paul II declared her blessed on 18th April 1993. On 30th April 2000, she was canonised as the first saint of the new millennium.
There are more materials on the Saint Faustina website.