When you have a PC in house, you may want to know what is inside of this box. Especially it is a brand name PC.
Before I turn to Piriform Speccy, I used cpuz, everst home, etc. Now it is a new product for me. It is a free software for home user.
As Piriform said, you can see the following information:
Processor brand and model
Hard drive size and speed
Amount of memory (RAM)
Graphics card
Operating system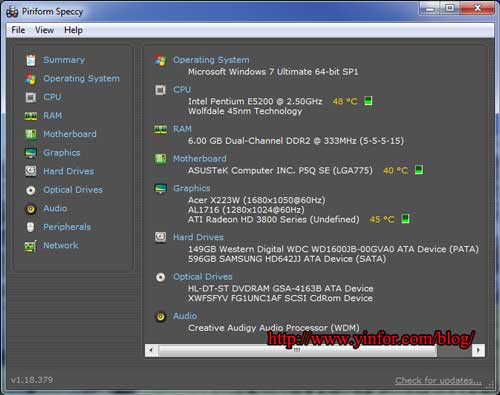 It is my PC's specifications. When I click CPU in the left panel, it will show me more deatils of it.  Such as 2 cores, 2 threads, code name is Wolfdale, what kinds of instructions it supported. and Fan speed, bus speed, caches information, etc.
So I would like to recommand it for every home user, who want to know the inside of his computer.
Click here to get your own download link of Speccy.