It is spring going to summer. Do you finish your home spring cleaning?
Right here you will find the tools you need.
To clean your heater is much more work to do. I have some vent free heaters to you. Look at it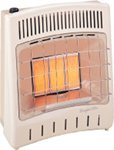 Remember, it is a Natural Gas Vent-Free Gas Wall Heater.
It has three heater setting. For your 600 sqft room, it is enough.
Easy to install without vent. But it works with natural gas only.
The total operating cost is lower. Only about pennies an hour.
Another issue I want to say is that it is very clean, no odor gas heater.