This is a new type of pc. Microsoft named it Ultra-Mobile PC.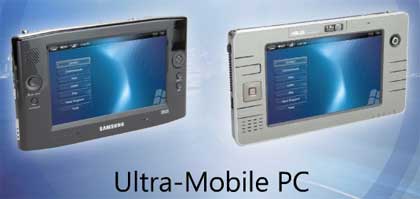 Samsung shows first Origami device By: Dan Nystedt, Martyn Williams and Elizabeth Montalbano IDG News Service (Taipei Bureau) (09 Mar 2006) Samsung Electronics Co. Ltd. is showing the first device designed around Microsoft Corp.'s Origami project at the Cebit electronics show in Germany. It is a handheld computer that falls somewhere between a tablet PC and a PDA and runs a special edition of Windows XP.

The device measures about 15cm by 20 cm, or half the size of a sheet of copier paper, and is known officially as an ultramobile device. Samsung's product, called the Q1, runs on a 900MHz Intel Corp. Celeron microprocessor and has 500M bytes of RAM.

The Q1 which was on show at Samsung's Cebit booth a day ahead of the show here in Hanover. It boasts both WLAN (wireless local area network), 802.11 A/G and Bluetooth connections, and uses touch-screen controls. It runs an instant-on multimedia player so users don't have to launch the full XP operating system to watch a video.

The device is in the final stages of development and it's not known exactly when it will be available or at what price. It will be discussed further at Cebit press conferences on Thursday by Intel and Microsoft.

Microsoft has been cagey about Origami's details since news of it first leaked out two weeks ago, when the company posted a Web site with minimal details at this Web site. Early reports speculated that Origami might be a new hardware product from Microsoft, but it turned out Microsoft is providing the software for a device that will be build by partners like Samsung using Intel processors.

The ultramobile system is hardly a new concept. At Microsoft's WinHEC conference last April, Microsoft Chairman and Chief Software Architect Bill Gates revealed plans for a lightweight machine in a form factor that falls between a PDA and a tablet PC. At the time, he said Microsoft and its partners would launch the product in 2006.
PopCap Games Inc. plans to announce several games for the devices at Cebit on Friday, including "Bejeweled 2," "Zuma" and "Bookworm." Trial versions of the games will be preinstalled on Origami devices from several hardware makers, and customers will be able to buy the full games from Microsoft's MSN Games portal, according to PopCap.

Pharos Science and Applications Inc. will launch GPS (global positioning system) software for Origami systems at Cebit, the company said. Pharos already offers GPS software for Microsoft Windows Mobile devices.

From ITWorldCanada
Here is the links of this project and relative products site.
Origami Project: http://www.origamiproject.com
Microsoft's UMPC: http://www.microsoft.com/windowsxp/umpc/hardware.mspx
Origami Project Official Site: http://origamiproject.com/default.aspx