Sometimes, we have to test our monitor, or LCD. This software, Monitors Matter CheckScreen can be used to test both of them.
Monitors Matter CheckScreen V1.2 is a professional test software.
This is one of the best programs intended to test your monitor! It will allow to properly adjust the monitor before testing. Then you will be able to perform the following tests: colour, focus, geometry, power supply, streaking. CheckScreen has a separate tab for LCD testing, which contains the following additional tests: crosstalk, smearing, pixel check, tracking!
Let's look at the main screen of it.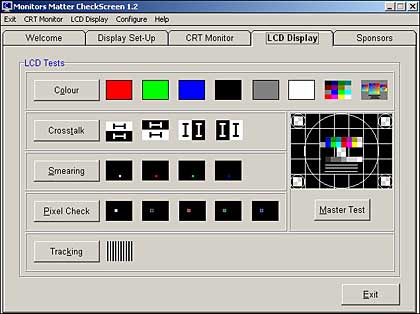 The following will be tested if you want.
COLOUR:CROSSTALK:SMEARING:PIXEL CHECK:TraceKing: