When I write the last post, I just noticed that I forgot to post my new 2.5GbE network adapter.
I bought it on Amazon.ca, $35.99 plus tax.
Here is the product description from Amazon.
【COMPATIBLE WITH OS】Compatible with Windows 10 / 8 / 8.1 / 7 / XP / Vista, Windows Server 2012 / 2008 R2 / 2008 / 2003, UEFI, Linux kernel up to 5.6 operating systems.
【DRIVER INSTALLATION REQUIRED】To find more OS compatibility version or driver download, go to Realtek: https:// www . realtek. com/zh-tw/component/zoo/category/network-interface-controllers-10-100-1000m-gigabit-ethernet-pci-express-software
【2.5GBPS PCIE NETWORK ADAPTER WITH RTL8125B CHIP】PCIe 2.5G 4-Speed Multi-Gigabit Network Adapter supports data rate up to 2.5 Gbps. It will increase business working efficiency by increasing the network speed. The transmission is more stable, and it is not easy to cause packet loss and distortion.
【ADD 2.5G RJ45 ETHERNET PORT】Fits any PCI Express x1, x2, x4, x8 or x16 socket. NOTE: Only work with PCI-E slot, Not for PCI Slot.
【PACKAGE CONTENTS】2.5G PCIe network card, standard bracket, low-profile bracket, screwdriver, screws, CD Drive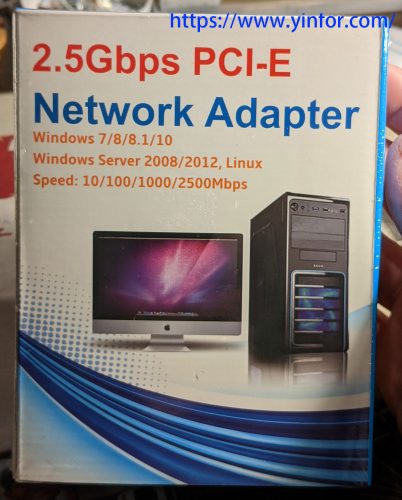 The box is quite simple and looks like no design.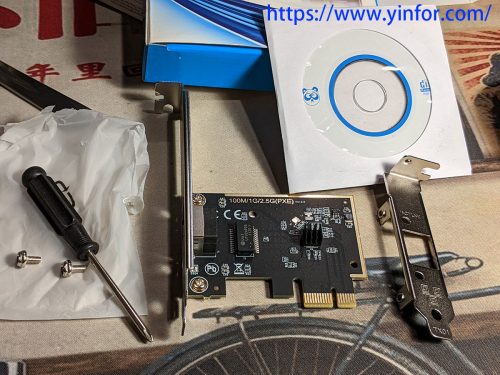 The card itself
screwdriver and two mounting screws
the low-profile bracket
Driver CD, mini-cd.
Let me see the front and back of the adapter.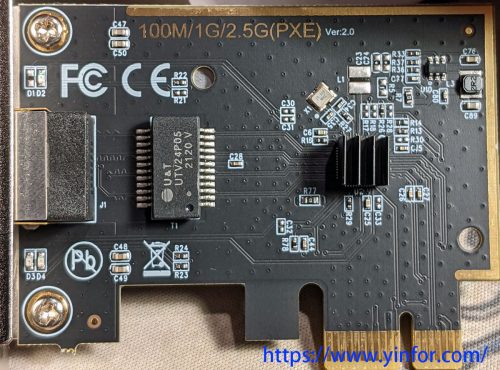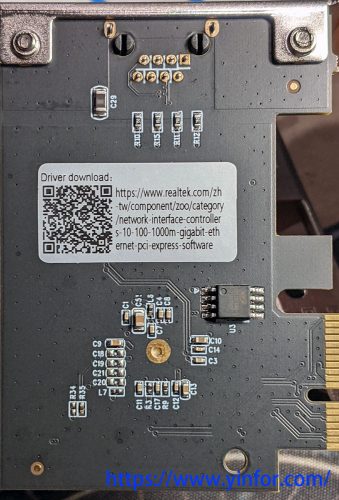 There is a small heatsink attached to the IC. I believe it is RTL8125.
So far, I don't have any problem with it. I can tell it is good for my PC setup.
I run HWiNFO to retrieve the hardware information.
RealTek Semiconductor RTL8125 Gaming 2.5GbE Family Ethernet Controller
---
[General information]
Network Card:
RealTek Semiconductor RTL8125 Gaming 2.5GbE Family Ethernet Controller
Vendor Description:
MAC Address:
00-E0-4C-68-AE-23
[Capabilities]
Maximum Link Speed:
1000 Mbps
Transmit Buffer Size:
6201344 Bytes
Receive Buffer Size:
785408 Bytes
Hardware ID:
PCI\VEN_10EC&DEV_8125&SUBSYS_012310EC&REV_05
[Driver Information]
Driver Manufacturer:
Realtek
Driver Description:
Realtek Gaming 2.5GbE Family Controller
Driver Provider:
Realtek
Driver Version:
1125.7.318.2022
Driver Date:
17-Mar-2022
DeviceInstanceId
PCI\VEN_10EC&DEV_8125&SUBSYS_012310EC&REV_05\6&26F3E0A9&0&00200211
Location Paths
PCIROOT(0)#PCI(0201)#PCI(0002)#PCI(0400)#PCI(0000)