I bought an empty bottle from IKEA last week. Narrow neck, big tummy. The size is good. It is about $7 plus tax. I will use it for my long time hobby. You guess it.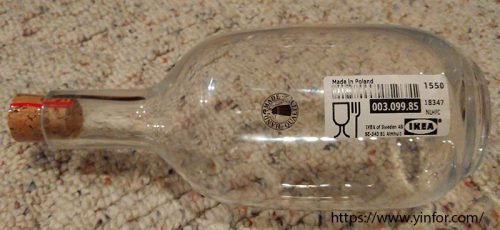 When I am a young boy, I joined the Model Ship Team in a special school. It is also called Marine Modelling. All team members are from Grade 6 to Grade 12.
I won Shanghai championship during high school time. It became my hobby when I left the team.
I made one "ship in bottle" before, almost twenty years ago.
It is time to see if I forget how to build it. Now, I have bottle. I also have some tools at my basement. I just need a plan and some materials.
Let me see if I can do it in three months.